Easy Holiday Snacks For Last Minute Kid's Party

11 Dec 2010
 As a mother, I know that the last minute preparations for kids party be quite a daunting task. Let me share with you some Easy Holiday Snacks For Last minute Kid's Party:
Fruit Cup: Prepare individual fruit cups for kids. You can use strawberries, grapes, banana, apple slice, pineapple or other canned fruits. Prepare a quick yogurt dip to go along. You can make or order different yogurt flavors and let kids have fun choosing their own dip.
Cinnamon Tortilla Chips: Cinnamon flavored tortilla chips taste awesome, and kids love it. Its very simple to make, just spray tortilla chips with cooking spray, sprinkle with cinnamon sugar and bake until they are crisp (should take approximately 10 min.)
Ants on a Log: Kids will not only love this name, but will relish the snack as well. It contains most of the kid's favorite peanut butter. Just cut celery sticks into 3-4 inch slices, fill them up with peanut butter and sprinkle some raisins.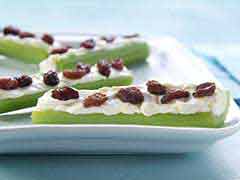 Finger Sandwiches: There are lots of ways to make finger sandwiches look festive. You can cut the sandwiches in fun shapes, with the help of cookie clutter; add a toothpick at the top with a special surprise.
Cheesy Popcorn: This one's the easiest to make and children just love it. Just sprinkle butter and cheese on popped popcorns in a shallow baking dish.
 Kid's Trail Mix: Mix Chex cereal, dried fruit bits, raisins, peanuts and put all of it in a Ziploc bag and shake the mix.
Coconut Banana: Bananas are wonderful and healthy for kids. Put banana pieces in a large bowl, pour orange juice over it, and sprinkle shredded coconut. You could drizzle honey or chocolate syrup over it to make it more appealing for the kids.
 I am sure Kid's will love all these snacks and moreover they are very easy to make and are quite healthy. Let kid's have a blast and enjoy their party
Image Credit: yanksing.com, librarypalooza.net
Easy Holiday Snacks For Last Minute Kid's Party