Gingerbread House Decoration Ideas: How To Decorate A Gingerbread House
8 Dec 2010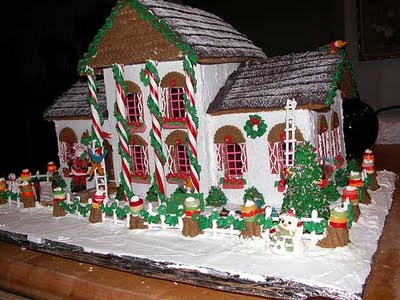 You might have already chalked out a few plans to bake a tasty gingerbread house, and all you may need now is some great ideas to decorate it. You don't need to get tensed by wondering how to decorate a gingerbread house because this blog dishes out some great  ideas, which were perfected over years by testing, tasting and of course practice.
Ideas for Decorating Your Gingerbread House
Roofing Materials
A roof is the most creative and visible part of the whole gingerbread house creation.
Rectangular and round shaped candies can be spread as the shingles on the roof tops. You can perhaps toy with different colors of the candies for the added effect. Gum sticks, caramel and toffees can serve the purpose.
You can cover the whole rooftop with some tiny candies like skittles, M&M, jelly beans and other candies. You can also use cereals, crackers, lasagna, and noodles to decorate the roof. You can perhaps work with shredded wheat cereal to make old-timey shingles.
Windows
The butterscotch crumbles can be used to give a stained glass effect to your windows. If you are fond of icing, then you can use them for creating the window panes. Shutters can be created using the sticks of gum. Or you can make use of the gingerbread pieces, which was trimmed while finishing a perfect ginger house pattern.

Gelatin sheets can be used to decorate gingerbread house windows. Leaf gelatin sheets can be used as decoration on diamond-shaped panes within each window.  Use icing to glue the cellophane. Use icing to glue up colored candies and fruit roll-ups inside the house.  Light up the house from small lights attached to the base.  Melted butterscotches or candy can be poured inside the blobs on the wax paper and attached inside the windowed walls using the icing glue.  You can perhaps use Hershey's chocolate bars to make window panes.
Ponds
Gingerbread house ponds, lakes usually livens the gingerbread scene.  These ponds will deliver incredible amount of joy to the viewer.  
You can perhaps try out these methods to incorporate water bodies in your gingerbread house:
Spread out thin layer of blue, translucent icing. Or melt jolly blue ranchers and lifesavers to prepare a water body.  Use blue sprinkles on the blue icing to add versatility to your pond.
You can try your luck with blue fruit roll-up type of candies by carving them in desired shapes and laying it one the base of the gingerbread house. 
You can use blue jello for creating a swimming pool effect.
To depict a frozen pool you can use the aluminum foil.  Aluminum foil brings out icy effect.
Once you are done with ponds you can use: chocolate fish or sharks; candies for making  bridges across streams or rivers; candy rocks for making stepping stones and boulders.
Gingerbread house decoration can be real fun. Don't be afraid to use your imagination but do feel free to check out a few patterns  if you are at a loss. 
Image courtesy: blog.christmaslightsetc.com
Video credit-youtube.com
Gingerbread House Decoration Ideas: How To Decorate A Gingerbread House