Popular Christmas Food Tradition Across the World
7 Dec 2010
With Christmas on its way, it would be real fun to get to know the common food traditions followed  around the world on this day. Read on for some interesting facts...
Christmas Food Traditions In North America
North American continent is especially noted for its multi cultural population, thus the magnitude of celebration may vary from one community to another.
Mexico:  The Mexican Christmas food traditions are least influenced by American Christmas celebrations.   Tamales, Turkey, Clipfish, Christmas Eve Salad, Romeritos, and Ponches are normally served during Christmas dinner.

 
United States and Canada:  In US and Canada people enjoy: turkey, short bread, cranberry sauce, gingerbread, apple cider, pumpkin pie, Dungeness crab, champagne, Russian Tea cakes, tamales , and lefse.
Christmas Food Traditions in South American Continent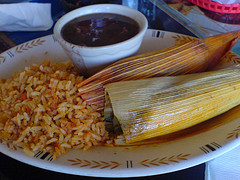 South America has witnessed many cultural evolutions, European colonization, and drastic political changes. The influence of these events can be noticed in the Christmas celebrations and Christmas food traditions.
Brazil:  Brazilian Christmas food traditions resemble Northern Europe and Northern America in many ways. Generally pork loins, French toast, roast turkey, farofa, roast pork, codfish, Brazil nut, Pannettone are served during Christmas dinner.

 
Colombia:  Celebrations continue for 20 days beginning from December 16 and end on January 6th. Colombian dishes are mostly sweet, so you can enjoy  Bunuleos, Manjar Blanco, Natillas, Hojuelas, and sweet fruit breads during dinner.

 
Venezuela:  Celebrations here begin a month in advance, and dishes like ham filled bread and olives, dulce de lechosa, hallaca, perni, and salad made up of carrot, apple, potato, and shredded chicken are served during Christmas.

 
Chile: The country has dealt with Spanish colonization, so its imprint can be found on food traditions too.  During Christmas, dishes like turkey, eggnog style beverage, cola de mono, and pan de Pascua are served.
European Food Traditions For Christmas
In central Europe, generally Christmas Eve is considered to be the fasting day. Christmas dinner traditions vary from country to country in Europe.
Czech Republic and Slovakia: Christmas cookies, fish soup, fruit cake, ginger bread, carp and potato salad are served during the Christmas dinner.

 
Switzerland, Germany, Austria, South Tyrol and Lichtenstein:  Food traditions in these German speaking countries are similar. Normally fruitcakes, gingerbread, sausages with veal, potato salads, Christmas cookies, roasted goose and carp are served during the dinner.

 
Hungary and Poland: Sweet grain pudding, vegetable soups, cabbage and meat stew, meat stuffings and meat dumplings, fish soup, sausage, polish salad, roast turkey, bread pudding, stuffed cabbage, roast duck, etc are served during dinner.
In eastern Europe countries, food traditions for Christmas are similar...
Russia, Armenia, Georgia and Ukraine: Wheat soup, grape jelly, fish and rice, pork based sausages, meat cuttings, cabbage pickled in brine and filled with meat and rice, pork and beef based aspic, strong spirits, fish soup, soda bread, and boiled wheat is served during dinner.
In northern Europe too,  Christmas food traditions are more or less the same...
Denmark: Rice pudding, Danish spherical pancakes, boiled whole potatoes, brown sauce, caramelized potatoes, rice pudding, roast pork, roast duck, pickled red cabbage, Christmas cookies, and marzipans are served during dinner.

 
Finland: Christmas ham, turkey, pickled herring, freshly salted salmon, liver casserole, carrot casserole, potato casserole, rosolli, Christmas bread, reindeer, Karelian pasties, rice pudding, ginger bread, chocolate, prune jam pastries, etc are served for dinner.

 
Norway: Mulled wine, pork sausage, preserved fish, pork ribs, rice pudding, Christmas sausages, meatballs, sweet and sour red cabbage, gingerbread, and St.Lucia breads are served.

 
Estonia: Pork with sauerkraut,baked potatoes, Estonian sauerkraut, white and blood sausage, potato salad with red beet, and pāté are common.

 
Sweden: Meatballs, spareribs, small hot dogs, pickled herring, lutfisk, pork sausage, Janssons frestelse (potato casserole with anchovy), salmon, and rice pudding are common menu featurings.
In southeastern Europe, Christmas food tradition calls for large number of meat dishes.
Croatia and Slovenia: Stuffed cabbage, pot roast, pita and smoked meat, turkey, are served, along with various desserts such as fritule, potica, strudel, and cookies during the feast.

 
Romania and Moldova: Piftie, pork-based sausages, various cuttings of pork, pickled  cabbage, cozonac and strong spirits like palinka, Ţuică  are served during  Christmas.

 
Serbia, Bosnia, and Montenegro: Boiled wheat, Christmas soda bread with a silver coin, fish soup are popular dishes.
In southern Europe, food traditions are similar to western Europe.
Italy: Prosecco, spumante, pandoro, panettone, panforte, ravioli, tortellini are served during the feast.  Other than these dishes seven types of fish are served during Christmas dinner.

 
Portugal: Roasted turkey, codfish, eggnog made with boiled wine, egg yolk, sugar and cinnamon, hot chocolate, a small, sweet potato and orange cake, Christmas pudding, sweet made of eggs, pieces of bread, almonds, port wine  roasted goat, roasted lamb are served in the feast.

 
Spain: Roasted turkey, roasted lamb, seafood, egg-based dessert, crumbly cakes, King cake known as roscón de Reyes in Spanish and tortell are served during the Christmas.
In western Europe, Christmas is celebrated for 10 days and more. Various meat and vegetable dishes are served.
France: Oysters, foie gras, roasted chicken, chestnut-stuffed turkey, and goose.

 
United Kingdom & Ireland: Brandy butter, roast turkey, Chocolate Yule Log, Roast Beef, roast duck, roast goose, roast pheasant, potatoes roasting with goose or duck is served for Christmas dinner.
Asian Food Traditions during Christmas
Japan: Japanese style Christmas cake is a white cream cake, which is frosted with whipped cream, and topped with fresh strawberries.
Philippines: Edam cheese, sweet rice cooked in hollow bamboo tubes, traditional dessert made with rice flour, sugar, clarified butter and coconut milk, salads, Filipino style spaghetti are some of the dishes served during Christmas. 
Christmas celebrations across the world are witness to the evolving food traditions observed on the day and everywhere there is lots of feasting and cheer.
Image credit: manolo.se, hispanic-culture-online.com, indianadairy.wordpress.com, lynnstreasures.typepad.com
Popular Christmas Food Tradition Across The World