Great Ideas on Fun Christmas Snacks
6 Dec 2010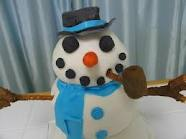 Time for Christmas parties to set in and for the creative snacks to be served on the plates again! But this year, instead of going through the same recipes again, why not be a little different and try these great ideas on fun Christmas snacks?
Five Ideas on Fun Christmas Snacks
 Eggnog: This creamy eggnog takes the center stage of the Christmas party. Use a large rose bowl as the Frosty Bessel and paint the inside of glass vessel with melted orange and black chocolate coating, to make eyes, nose and lips with them. Fill the vessel with eggnog and serve.
Snowmen: Easy to make and easy to use, these cute snowmen are just apt for Christmas snacks. A glass of milk takes on new deliciousness with doughnut-hole snowmen heads. Make the eyes and nose with edible food clay and pierce a hole through the center of the doughnut to fit in a straw. Outfit the snowman by making a miniature scarf for the glass. You can use some bright orange yarn for this, to suit the Christmas mood and place a few scrapbook-trimmed brads in snowflake shapes on them. 
Ants on a Log: This fun Christmas snack comes to life with children around. For this, wash some celery and cut celery stalks into halves. Spread some peanut butter on the stalks to make logs out of them. Now, place a few raisins (ants) on the log. You can also add a few drops of honey to give a "slip-n-slide" effect for the ants. 
Gingerbread Skeletons: This year, let the gingerbreads come out with their skeletons on. Using cookie cutters, cut the dough into shapes of gingerbread men. Using a white frosting, pipe on the bones on them, once the cookies are cooled.
Cheese Ball Santa: Santa is the highlight of all Christmas celebrations. Therefore, let this Santa appetizer highlight your party as well. Make Santa's face using cheese balls and using mini rice cakes, make the beard. Make the Santa hat with a red pepper, eyes with cherries and nose with a bit of carrot. Your cheese ball Santa is ready.
This winter, get inspired with some of these great ideas on fun Christmas snacks and make your Christmas parties a real fun time.
Image credit: sweetiecakesandpies.wordpress.com/    ;  
Great Ideas On Fun Christmas Snacks