Hanukkah Traditional Foods Guide: A Look At the Common Jewish Foods Included In A Hanukkah Menu

5 Dec 2010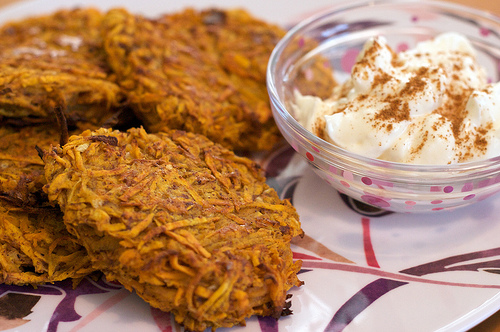 Hanukkah traditional foods guide: A look at the common Jewish foods included in a Hanukkah menu would reveal that the Jewish love to feast all the time whether it's a weekend or a special festival.
Latkes
Latkes are the most popular Jewish food eaten on almost all occasion; it seems Jews eat latkes more than anything else. They love the dish so immensely that it has become a common Jewish food and yet a traditional dish for Hanukkah menu.
Challah
Challah is flavorful braided bread eaten on all Jewish holidays including weekends. Jewish celebrate even the simplest holiday with challah which is served hot.
Sufagniyots
They are doughnuts filled with jelly; the flavor of jelly may vary from custard to strawberry. This common Jewish dessert is so popular that it is available throughout the year in bakeries and Jewish enjoy this delicious sweet dish all year round.
Cheese Fritters
Fried foods are always welcomed by Jewish. While this dairy dish is popular in Hanukkah menu, Jewish eat this very frequently.
Rugelach
Rugelach is stuffed triangular shaped pastry enjoyed by Jewish. For a traditional Hanukkah menu, rugelach is a must have dish, it is prepared with dry fruit stuffing especially for Hanukkah.
Pastries
Pastries are all time favorite. For Hanukkah they are prepared in different shapes to go with the theme of the festival. It's eaten as well as used as food gift for children.
Kugel
A baked casserole recipe, kugel is eaten frequently by Jewish. It is a popular traditional Hanukkah recipe served everywhere on the occasion of Hanukkah festival.
Image Courtesy:   flickr.com 
Hanukkah Traditional Foods Guide: A Look At The Common Jewish Foods Included In A Hanukkah Menu