Christmas Special
5 Dec 2010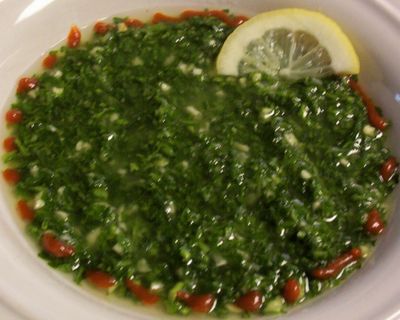 Steak sauce - Chimichurri
1 spoon (soup) of green pepper chopped
1 tbsp (tablespoons) finely chopped onion
1 tbsp (tablespoons) chopped parsley
2 spoons (soup) of vinegar
4 spoons (soup) of oil
salt, pepper, paprika and oregano to taste
1 clove garlic
Mix all ingredients and beat hard for five minutes.
Let stand for 1 hour and make the hit.
This sauce is used for seasoning meats,
while they're baking, or until cooked.
Böhmische Lendensteaks
4 spoons (soup) heavy cream
2 tbsp (tablespoons) flour
4 pork loin steaks
100 grams of butter
a little cumin
white pepper
1 clove garlic
salt
Season the steaks with salt, pepper and cumin.
Let stand ½ hour to take taste.
Then fry the steaks in butter over high heat for 2 minutes on each side.
Season the steaks with a little garlic.
Put the flour into the frying fat and baste the meat with the cream.
Leave everything braise for 10 minutes over low heat.
Christmas Ham
A tender ham about 2 pounds
3 tbsp (tablespoons) corn syrup
1 cup (tea) dry white wine
1 cup (tea) of pineapple juice
2 tbsp (tablespoons) mustard
Preheat the oven at medium temperature (170C).
With a knife, remove the skin of the ham.
If there is a thick layer of fat, remove a little, leaving a 0.5 cm, approximately.
Place in a roasting pan, place over a preheated oven and bake about half an hour calculated per kilo.
Baste occasionally with a mixture made from wine and pineapple juice.
If too brown, cover the ham lightly with aluminum foil.
One hour before finishing the cooking time, combine the corn syrup with the mustard.
Remove ham from oven. Increase oven temperature to high (200C).
Brush entire surface of ham with the mixture of glucose and mustard.
Bake for another 45 minutes or so. Remove and arrange on a platter.
Note: Glucose is a honey corn (actually a syrup) made from corn sugar
Tender with honey mustard
1 ½ pounds of boneless tender smoky
2 tbsp (tablespoons) mustard powder
¼ cup (tea) brown sugar
Some whole cloves
1 onion, cut into four
½ cup (tea), honey
1 bay leaf
For Garnish: Parsley
Place the tender in a large saucepan with onion, bay leaf and enough water to cover.
Simmer on low heat, cover and cook for about 15 minutes.
Preheat the oven at medium temperature to 200 º. Remove from pan and place strive in a dish.
Remove the skin, taking care to leave the fat, tender and place in a roasting pan with the fat up.
Mix honey, sugar and mustard in a small bowl until a paste.
Spread the mixture over the tender and make shallow cuts, diagonally, using a sharp knife.
Skewer some cloves in fat, and bake for 40 minutes or until golden.
Serve hot or cold, garnished with parsley.
Parma ham with fruit salad and hot sauce
200 grams of sliced parma ham type
5 tbsp (tablespoons) olive oil
1 spoon (soup) balsamic vinegar
1 spoons (tea) tabasco
2 small plums
5 medium strawberries
1 medium mango
2 medium kiwifruit
Salt to taste
Wash strawberries (discard the stems), plums, mangoes and kiwis.
Break off the strawberries in half, cut the plums into wedges, peel the mango and cut into strips.
Peel the kiwis and cut them into slices. Arrange the fruit on a large platter and place the slices in center of ham.
Reserve. Mix in a small bowl the olive oil with vinegar, Tabasco and salt. Toss the fruit and serve.
Homemade Mascarpone
450 grams of cream
1 tablespoon lemon juice (juice of 1 / 2 lemon)
Heat cream in double boiler.
Measure the temperature with a thermometer cooking, and when you get 82 add the lemon juice
Keep stirring maintaining the temperature for a few more minutes until it begins to thicken.
Remove from heat, cover and let cool slightly.
Take a refrigerator overnight.
Place in a colander or wrap in clean towels and refrigerate for 24 hours.
Place in a container and ready to use.
Salmon with Mascarpone and Herb
For the salmon:
750 grams of fresh salmon fillet - four parts
½ teaspoon (tsp) red pepper powder
1 spoon (soup) olive oil
1 teaspoon (tsp) ground cumin
Balsamic vinegar or red wine
Leaves of various lettuces
½ cup lemon juice
For the mascarpone with herbs:
185 g mascarpone
2 spoons (soup) of green onions chopped
1 spoon (soup) of chopped fresh chervil
1 spoon (soup) of chopped fresh dill
Black pepper freshly ground kingdom
Place the olive oil, lemon juice, cumin and red pepper in a bowl and mix well.
Brush the slices of salmon with this mixture and set aside the remaining ones.
Heat a grill pan or skillet over high heat, grill the salmon leave for 1-2 minutes each side.
With a fork go brushing salmon with remaining mixture.
For the mascarpone with herbs:
Place the mascarpone, chives, dill, chervil and pepper to taste in a bowl and mix well.
Baked rice with mascarpone
2 spoons (soup) of Japanese Sauce (Shoyu)
3 spoons (soup) of oil
½ chopped walnuts xícarade
¼ xícarade chopped celery
2 xícarade cooked rice
½ cup mascarpone
½ green pepper, chopped
1 onion, chopped
2 eggs, beaten
Salt
Sauté onion with the celery in oil.
Add the dressing Japanese. Remove from heat and add remaining ingredients and bake in a greased 45 minutes.
Sprinkle grated cheese on top.
Brown rice with lentils
1 cup (tea) of rice
½ cup (tea) of lentils
4 tbsp (tablespoons) chopped chives
5 tbsp (tablespoons) olive oil
3 cups (tea) in hot water
½ medium onion, chopped
1 clove garlic, minced
2 onions, sliced
Salt to taste
Rinse rice and lentils. Reserve.
In a saucepan, add onion, oil and garlic.
Saute and add the rice and lentils.
Add water and salt and cook until dry water and salt and cook until the juices dry.
In a skillet, place olive oil and onion. Fry.
Place cooked rice into a baking dish, the onions on top and garnish with the chives around.
Serve immediately.
Buffalo Mozzarella Salad with Black Olives
300 grams of black olives in Chile
6 ripe but firm tomatoes
300 grams mozzarella
Fohas basil
pepper
olive oil
salt
Note, goes very well with Italian bread
Cut the sliced tomatoes, slices of mozzarella.
Arrange on a plate.
Remove the olives from the pit and place them in the processor.
Put the pesto over the tomatoes and mozzarella, drizzle with enough olive oil, salt and pepper.
Salad of fresh figs
Fresh figs
Salt, black pepper and balsamic vinegar to taste
Chicken breast cooked and sliced
Green leaves
Arrange the dishes on a mix of green leaves
(Lettuce, crisp radicchio, etc.)..
Of them, slices of chicken breast cooked and sliced.
Garnish with fresh figs cut into 4 pieces and season with salt, pepper and vinegar.
Soufflé au Parmesan Beignets (fritters cheese souffle)
1 pinch of paprika (or red pepper)
3-4 eggs (depending on size)
60 grams grated parmesan cheese
125 grams of flour
60 grams butter
grated nutmeg
100 ml milk
oil for frying
salt
Place butter in a pan, salt, grated nutmeg, paprika, and a mixture of 100 ml milk and 100 ml of water.
Boil. Place the flour stirring constantly with a large spoon
The dough will thicken. Continue to stir until the dough comes away from the pan and has the look of a bouncing ball.
Remove from heat. Place the eggs one at a time, stirring constantly.
Finish by adding the grated cheese.
Remove with a spoon small portions of dough - the size of a walnut and fry in hot oil.
Serve hot on a folded napkin. Serves as input or the appetizer.
Café au creme
2 coffee (tea) coffee
100 grams of refined sugar
6 egg yolks
1 liter of milk
To ½ liter of milk: 4 egg yolks
Boil the milk with the coffee.
Break the eggs into a bowl. Separate the egg whites, reserve them for another preparation.
Add the egg yolks and sugar and mix well with a wooden spoon until the dough is white and creamy.
Pour the hot milk slowly into the egg yolks, stirring constantly.
Turn everything back into saucepan and place over low heat stirring constantly.
The cream will thicken. Do not boil but he carved.
If the cream curdle, beat vigorously with a whisk 3 to 4 minutes and consistency back.
Serve cold with crackers.
Note: If you want to serve with whipped cream and place in a time of preparation puco of port wine, also garnish with mint
Almond Cookies
Proportion to an egg:
3 or 4 nuts from almonds or stop at will
25 grams of flour
50 grams of sugar
Beat the egg whites firm. Mix sugar with flour.
Add this mixture gradually to egg whites, stirring well.
Beat the dough for her to stay thin. Add chopped nuts or slivered almonds very fine previously peeled
(With the help of boiling water) and cut very thin.
To prepare the almonds
Place in boiling water until the skin comes off.
Dry in the oven. Then cut into very thin slivers.
Grease an aluminum platter with butter and sprinkle lightly with flour.
With the help of two spoons of tea, put small portions of dough leaving enough space between each one.
Bring the dish to the hot oven for 10 minutes at 230 C for about 10-15 minutes.
The cookies are ready to show white in the middle, with a golden halo.
Starry Christmas cake
1 tablespoon (dessert), yeast
8 tablespoons () water
220 grams of wheat flour
250 grams sugar
chantilly
ganache
4 eggs
rum
strawberries for decoration
Ganache
500 grams of dark chocolate melted
1 cx 200gr cream
mix all ingredients
Whisk egg yolks with water, add sugar and beat making. Add the egg whites.
Bake in a greased, 25 minutes approximately
and then cold, with some sticks to mark the shape of a star, and cut with sharp knife.
Open the star in half, and moisten both sides with a mixture of water, sugar and rum.
Garnish with whipped cream, and cover both sides as the star cut-offs,
with the ganache and then put the strawberries on the tips.
Apple soup with honey and cinnamon
3 tablespoons (dessert), honey
Bowl of water with juice of 1 lemon
2 pieces of 5 cm cinnamon
400 ml water
Chantilly
Peel and cut the apples into eight pieces (wedges). Put in water with lemon. Book.
In a saucepan, bring water, honey and cinnamon. Boil for 20 minutes.
Add apples and cook until soft. Serve with whipped cream.
Cake in the champs elysees
2 glasses of liquor of your choice
200 grams of almonds (no skin)
¼ cup (tea), honey
250 grams of butter
100 grams of wheat flour
300 grams sugar
A pinch of salt
6 eggs
Dip the almonds in processor. Add half the sugar.
Beat butter with remaining sugar until pale.
Add to these the almonds and sugar, then eggs one at a time, stirring constantly.
Finally, add the flour, salt and liquor.
Beat very well and when the dough is very liquid, cover a cookie sheet completely with parchment paper.
Place dough in wax paper and bake in moderate oven for baking. Cover with a little honey and serve.
For the wax paper from slipping when putting the dough, spend a bit of butter inside the baking dish.
Christmas cake of dates and nuts
Mass:
1 tablespoon (coffee) baking powder
1 ½ cup (U.S.) sugar
200 grams of ground dates
dates and nuts to decorate
200 grams ground walnuts
6 eggs
Chantilly:
2 spoons (soup) icing sugar
½ tablespoon (coffee) vanilla extract
250 ml of fresh cream, ice cream
Mass:
Beat eggs with sugar until doubled in volume.
Add remaining ingredients and mix.
Place in a greased, bottom lined with greased parchment paper also.
Bake in heated oven. Unmold warm, let cool, cover with whipped cream and decorate with the dates and walnuts.
Serve chilled.
Chantilly:
Mix everything together, using the lowest speed of mixer,
until mixture is very consistent and uniform. Use.
Crepes with fruit
1 spoons (dessert), light margarine unsalted
1 tablespoon (dessert), sweetener powder
2 cup (tea) of skim milk
½ cup (tea) of wheat flour
1 egg
Filling:
400 grams of vanilla ice cream
Syrup:
2 tbsp (tablespoons) honey
½ cup (tea) of apple juice
½ cup (tea) water
1 tangerine peeled skin and core
1 apple, sliced banana
Juice of 2 oranges
2 kiwi, sliced
Blend dough ingredients and reserve in refrigerator for 15 minutes.
To make the syrup, put the juice of orange, apple, water and sweetener to a boil for 10 minutes.
Turn off the heat and add all the fruit. Make the crepes in a small frying pan greased with margarine.
Fill with 1 tablespoon of the cream, fold in half twice and put ½ ladle sauce over fruit.
Wines to accompany the above recipes!
Chardonnay
One of the most famous varieties of white wine, coming from France and Champagne and Burgundy, has now spread worldwide.
Besides being an important ingredient of champagne, is used in the production of classics such as Chablis Burgundy, Montrachet and Poully-fuss.
Country: France (Burgundy), United States (California), Australia, New Zealand, Chile, South Africa, Argentina, Brazil
Types of food that combines: light fish, white meat, salads and simple dishes, fine cheeses and fruit to accompany lighter.
Chenin Blanc
Originally from northern France specifically of the Loire Valley, producing dry and sweet wines, is also responsible for the famous Vouvray.
Country: France (Loire), USA, South Africa, Australia and New Zealand
Types of food that combines: light fish, white meat, salads and simple dishes.
Gewürztraminer
Famous white grape of northeastern France, more specifically in Alsace, bordering Germany.
The German word "Gewürz" means aromatic, temperate and "WÜRZ" means spice, spices, resulting in a fruity wine, very aromatic, complex flavor.
Country: France (Alsace), Germany, Italy, Chile, South Africa, United States, Australia, New Zealand
Types of food that combines: German regional food, like a rack of pork with red cabbage matured
buttery mashed potatoes and apples. Brie and Camembert cheese with pepper jelly and toast are also good combinations.
Muscat (Muscat and Muscat)
Used for dry wines and sparkling in Alsásia Italian Sparkling Asti and Moscato type Bianco,
This grape is planted throughout the world, a typical component of perfumed sweet wines.
Country: France (Alsace), Portugal, Spain and Italy
Types of food that combines: cakes and pastries.
Pinot Gris
Family Pinot Noir grape of northeastern and eastern France. In northern Italy's Pinot Grigio.
Produces light white wines, young and dried in Italy and more rich and fragrant, in the French region of Alsace.
Country: France (Alsace), Italy, Germany, Hungary and New Zealand
Types of food that combines: goes well with salads and light dishes, goat cheese and garlic bread.
Prosecco
Produced in the Veneto region in Italy, resulting in sparkling fresh, fruity, low acidity.
Countries: Italy, Brazil
Types of food that combines: canapés, salads, mousse, salted, smoked or fresh salmon and Japanese food like sushi.
Riesling
Considered the best white grape in the world next to Chardonnay. Originally from the Rhine Valley,
Germany (Baden) and France (Alsace), produces wines with high acidity and low alcohol content, delicate and floral aromas.
The best Rieslings are found in Germany.
Countries: Austria, Australia, New Zealand, France (Alsace) and the U.S.
Types of food that combines: German food, like sausages, potatoes, pork loin, potato salad and herring.
Salads, yellow cheese, ham, mushrooms, fresh or smoked salmon and asparagus.
Sauvignon Blanc
With sharp acidity and fruity aromas, is a grape of excellent quality, is also compared to Chardonnay.
Country: France (Loire, Bordeaux), New Zealand, Chile, Austria and South Africa
Types of food that combines: fish, oysters, white meat, salads and simple dishes.
Touriga Nacional
It is the most famous grape variety in Portugal
Country: Portugal, Spain, USA, South Africa and Australia
Types of food that combines: was gras, duck meat duck, cod with cream.
Pinot Noir
Comes from Burgundy and gives rise to the most appreciated wines in the world.
The most classic examples are known wines of Romanée-Conti, Volnay, Clos de Vougeat among other celebrities.
Pinot Noir is also part of the revenue that makes up the wine Champagne.
Countries: France, California, Chile, Italy, South Africa
Types of food that combines: poultry, game, veal, pork and wild boar, red meat and heavier cheeses.
Sangiovese
It is the basis of the great wines of Tuscany and traditional Italian and is a good basis for Chianti, Brunello di Montalcino and Vino Nobilo of Montpulciano.
Countries: Italy, USA and Argentina
Types of food that combines: salad of radishes, salad of tomatoes seasoned with herb vinaigrette,
ossobuco, risotto, duck, pasta with meatballs and tomato sauce or even a simple pizza with tomato sauce.
Syrah / Shiraz
Brought to the West, it was implanted in the south of Burgundy and Provence (France)
where is known as the grape of the Rhone, as wines with intense color,
and full-bodied with aromas of red fruits.
Today is the main grape of the Cotes-du-Rhone, from the famous Chateauneuf-du-Pape and Cotes-de-Provence.
It is also responsible for major labels in Australia.
Country: France (Rhône), Australia, South Africa and Argentina
Types of food that combines: meat, poultry and yellow cheese, fondues, crepes and soufflés.
Tannat
Originally from France's Bordeaux region, is now more variety reigns in Uruguay, highly tannic, with blackberry and raspberry scent.
Countries: Uruguay and France
Types of food that combines: roast pork, ham or cooked, pepperoni pizza or margarita,
a plate of roast chicken with couscous and watercress.
Tempranillo
Regarded as the best Spanish red grape, grown in the regions of Rioja and Ribeira del Duero
gives rise to a colored wine with low acidity, slightly tannic and well it ages in oak, giving it smells of tobacco.
Countries: Spain, Portugal and Argentina
Types of food that combines: grilled meats.
Image Credit- afridgefulloffood.typepad
Christmas Special