Christmas Puddings Have A New Black Market
3 Dec 2010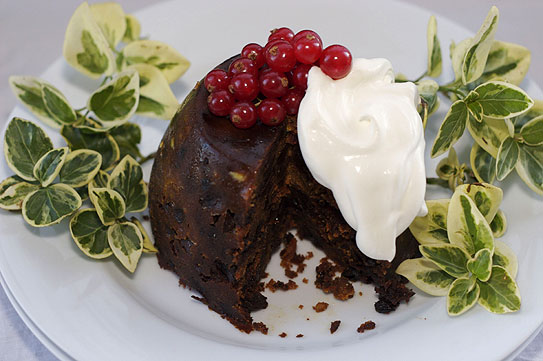 Christmas Puddings have a new black market! Yes that's true. Somethings may work for some time, and fade into oblivion; similarly the craze of the hour is the Christmas pudding by Waitrose. Lets have a peek into the past: Five years ago it was Nigella promoting the roast potatoes during  Christmas time. Her endorsements helped to skyrocket the sales of the "sinful" potatoes to new heights. A fortnight later some bigwigs like Waitrose and Tesco announced that their sales had doubled, whereas bigwigs like Asda and Sainsbury claimed that they have experienced around 70% hike in their sales. And precisely a decade ago it was Delia Knox coaxing us to make the cranberry sauces on our own. The marketers had a hard time fulfilling the demands of the customers.
Circa 2010- unlike the previous years, this is the first time, instead of an ingredient a product has stepped into the limelight. eBay announced the introduction of new product on the market saying that "Waitrose Heston Hidden Orange Christmas Pudding V/Rare". They suggested said that this is one of the must-have puddings for 2011, and it has been sold out in almost 99.9% percent of the stores, in its original sealed box. The last recorded bid was placed for  £77 on eBay. "We've sold tens of thousands," marked a superstore by suggesting that they had stocked around 2000 specimens at the beginning of the weekend and everything whizzed away very quickly. They further added that they knew that  the new pud will do well and that this product was just an improvisation of an old favorite product from one of their food ambassadors: Waitrose. Even the marketers seem to have taken the popularity of the pud with a pinch.
Waitrose suggested that this prince of pudding is "very special" and it can serve almost 10-12 people. And the pud has gained its worthiness from its unique method of preparation; a Waitrose representative says that "As it cooks, the essential oils from the orange peel infuse into the nuts and fruits from the inside out."
Some may think that £77 is too much for a pudding, which is retailed at £13.99, but it seems that the creators have spent a lot on the branding and are relying on magical marketing techniques to potshot their product.
Matching the heels of the Christmas pudding is a £10 DIY Christmas cake kit by Delia Knox. Through this product Delia aims to create room for first time bakers. She says that her cake kit is "perfect for first-time bakers who don't want a cupboard full of half-used jars, and enjoy baking but don't have the time".  Like Christmas pudding, this product is whizzing off the shelves within an affordable time span of 7 seconds!  It may show up on eBay for £26 (which may indicate the individual price of its ingredients), so it's better to rush and grab your chance before it becomes a pricey commodity.
The people who wish to try out this pud may belong to two categories: the ones who are still serious about their Christmas din-dins and the ones who are eager to swallow anything that comes their way. If you belong to the first category, then you can also try out a Christmas pud from Lidl, which is priced affordably at £2.99 and bowls you out with its exceptional taste.
Image courtesy:burtreepuddings.co.uk
Christmas Puddings Have A New Black Market