Top 10 Quick And Easy Hanukkah Snacks
3 Dec 2010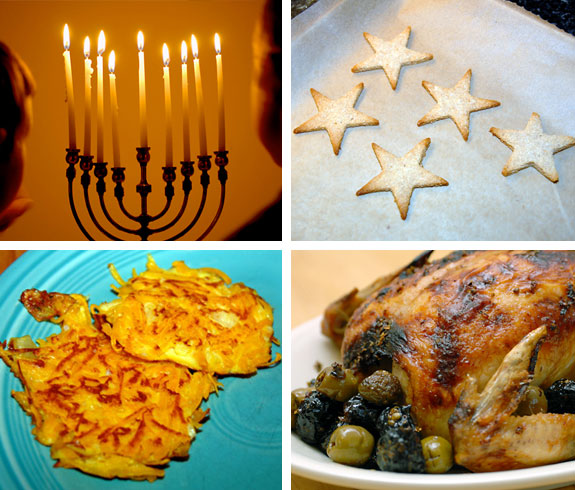 Hanukkah snacks are usually an easy affair, with basic ingredients, basic recipes and amazing results. Well, it is a good thing that you get to celebrate Hanukkah over eight nights because that way, you can eat these delicious treats for eight long days, to your heart's fill!
As you already know, apple and cinnamon go hand in hand and there is nothing more delicious than a gooey, syrup-dripping bite of apples.
These sweet variety of pancakes, made with potato starch, honey, fruits of your choice and cinnamon, can turn dinner time into a delightful occasion.
3. Sufganiyot
People living in Jerusalem gobble up upto 250,000 Sufganiyots or jelly donuts every day during Hanukkah. No wonder, this is another popular recipe to be attempted during those eight days.
4. Dreidels
You just need five ingredients to make these delicious treats, refrigerate them, dip in melted chocolate and pipe on the Hebrew letters. Kids will definitely love it, as will the adults.
You cannot say no to chocolate when it comes to Hanukkah. Wonton papers, chopped chocolate, powdered sugar and oil to fry - that is all you need to rustle up this delicacy.
6. Rugelach
This Jewish pastry is made with apricots, walnuts, cinnamon and a dash of brandy. Don't forget to serve it warm.
7. Apricot Gelt
It is very easy to use dried apricots to make these fruity Gelt or coins, both for young and adults.
This is a four ingredient recipe, which works well as a finger food as well as an edible gift to give away.
These delicious cheese bites are one of the most popular Hanukkah recipes to be tried during those eight days.
10. Coconut Joys
These may not look exactly like Joys but these sweet treats will definitely make you want to stay at home and enjoy Hanukkah.
Image Courtesy:  elanaspantry.com 
Top 10 Quick And Easy Hanukkah Snacks