Quick and Easy Ways Of Preparing Hanukkah Potato Latkes

3 Dec 2010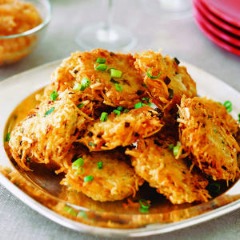 Hanukkah potato latkes are probably one of the most popular Hanukkah dishes.  Fried potato pancakes, their use of oil signifies the oil used to keep the lights burning in the story of Hanukkah.
But you don't have to celebrate Hanukkah to appreciate these tasty snacks. They make a great snack for all kinds of parties. So here  are 2 quick and easy ways of preparing Hanukkah potato latkes.
Deep Fried Hanukkah Potato Latkes
Grate potatoes and onions coarsely. Squeeze them to drain the water.
Mix grated potatoes, grated onion, flour, baking powder, egg, cinnamon and parsley in a large bowl.
Heat olive oil in a flat frying pan on medium heat.
For each latke, add a spoonful of the mixture into the heated oil and spread out the mixture to flatten it. Fit 2 or 3 latkes into the pan. Make sure you leave some space in between the pancakes or they will stick together. Also try to keep the pancakes small, they will look nice and will be easier to keep intact while flipping.
Fry the Hanukkah potato latkes until they turn brown. Flip them once one side is browned.
Take them out of the frying pan and let them rest on paper towels to drain excess oil. Serve them hot.
Oven Baked Hanukkah Potato Latkes
People who are calorie conscious or who have health problems may bake their Hanukkah potato latkes instead of deep frying. Or if you are falling short of time on a busy Hanukkah day, baking your Hanukkah potato latkes is a good idea since you can bake all of them at once and it eliminates the need for the constant attention required in frying.
While the basic ingredients and process remains same, it's the cooking method that varies. Lay out your latkes on a baking sheet, and heat your oven to 4 degrees. It takes about 10- 20 minutes to bake potato latkes in oven. Halfway, flip each pancake and bake until they are crispy and golden brown in color.
Tips for quick preparation
Use a food processor for grating potatoes and onions, it will be much faster than using a regular box grater.
Sprinkle some salt over the grated potatoes, it will drain out the water much quicker. Let it rest for a few minutes and you can squeeze out the water .
Image Courtesy:            gourmetkoshercooking.com
Quick And Easy Ways Of Preparing Hanukkah Potato Latkes