Christmas Dinner In New York : Where To Eat?

2 Dec 2010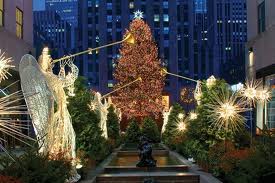 Its Christmas time once again and if you are looking for some nice and novel place to enjoy your Christmans dinner, just keep reading. Christmas in New York is special with its spirit and cosmoplitan appeal and this spills over to the dining scenery too. The city has so much to offer that none will be disappointed.
Top 8 Dining Places to Try Out in New York This Christman
BLT - Market at the Ritz Carlton - The Ritz Carlton near central park has something to boast, rigthtly so since the BLT market on the premises of the Ritz, sports a three-course Christmas dinner menu priced at $95.
Brasserie 81/2 of the Patina Group of Restaurants - Zero in on Brasserie, if you are looking for some novel place to eat in New York for Christmas dinner. The restaurant is famous for its novelty in French cooking and for Christmas dinner, there is a three-course meal on the menu fare at  $65 per person. Additionally, you can opt for a cheese-course, at an extra $15.
Cibo - The restaurant with its Italian (Tuscan) air presents contemporary American cuisine. Featuring in as a much sought after Christmas dinner destination in New York, the restaurant's menu fare includes meals (with soups, salad and entrees ) at $75 per person.
L'absinthe Restaurant - How about the taste of French in New York (a celebrated melting pot of cultures)?A wide array of Christmas specials as a la carte menu grants your wish for an authentic French Christmas dinner.
La vigilia at Lupa -   Apart from the regular Menu, the Italian restaurant Lupa will be serving  classic Italian, Christmas specialty – The Feast of Seven Fishes at $85 per person.
Murals on 54th - A set-up and ambience featuring murals from the 1930s, Murals on 54th is something you can look forward to.  A three-course dinner on Christmas eve and buffet for the festive Christmas nighta t $80 per person ($50 for seniors, and $25 for children) is on offering.
Rock Center Cafe - Christmas dinner in the bustling, happening city of New York, Manhattan is never better than here, where the cityscape is beautifully covered by the restaurant's vantage position. Rock center café offers a la carte menu for Christmas eve and prix-fixe menu at $58 featuring a three-course Christmas dinner, for you to savor in a wholesome fashion.  
The Sea Grill -  Housed in the Rockfeller Center, the sea-grill specializes in all sea-food (as the name obviously suggests) and of course the festive touch for Christmas eve at  $110  per person and Christmas dinner at $120 per person. At sea-grill, you smell the 'sea of delicacies' and surf through the storming flavors.
Tocqueville - A breathtaking ambience, with the best use of seasonal ingredients and a culinary style channeling from the Union Square greenmarket, the blend of the French and American cuisine offers on a platter, myriad flavors that never fail to appeal and appease. An amazing Christmas dinner destination in New York, Tocqueville will not let you down.

 

New York may now sound even more beckoning for the festive season and now that you have a list to guide you, hope that the Christman Dinner in New york would be fulfilling and impart the spirit of the season.
Image credit: newyorksightseeingtours.wordpress.com/ 
Christmas Dinner In New York : Where To Eat?