Best 5 Hanukkah Menus for Hanukkah Feast
2 Dec 2010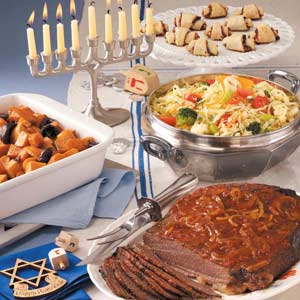 For all those who are never satisfied with just the good things in life and have always opted for "the best," for them here come my pick of the best 5 Hanukkah menus for Hanukkah feast. So, let's check out what are these best 5 Hanukkah menus for Hanukkah feast…
Best 5 Hanukkah Menus for Hanukkah Feast – Traditional Hanukkah Meat Menu
Light up the Hanukkah Menorah with delight and join up your friends, relatives and all the other guests to enjoy a traditional Hanukkah meat meal. This menu is especially good for the Hanukkah Friday night. So, to enjoy an elaborate Hanukkah meat dinner to remember, dress up your dining table with platters of –
Beef or chicken brisket in wine sauce / Oven roasted chicken
Latkes (Potato Pancakes) with an applesauce dip
Herb fritters
Garlic peas
Tangy lettuce salad
Sufganiot or Hanukkah jelly doughnuts
Hanukkah shape cookies
Black and blueberry rugelach
Mulled white wine
Best 5 Hanukkah Menus for Hanukkah Feast – Traditional Hanukkah Dairy Menu
If you want to stick to tradition, then follow this special dairy menu. There's one popular tradition of Hanukkah dinner is to feast on dairy products, which of course, to all our delights, includes cheese. And that too, cheese in Hanukkah feast holds a religious, symbolic value that commemorates Yehudit or Judith, the Jewish heroine of the Hanukkah story. 
Jamie Geller's Spinach tidbit appetizers
Grilled salmon / tuna burgers
Latkes (Potato Pancakes)
Sugared pepper and cheese pecan salad
Hanukkah Shape Cookies
Best 5 Hanukkah Menus for Hanukkah Feast – 30-Minute Hanukkah Menu
I had to include this one in my list of top 5 Hanukkah feast menus. That's because, there are some people who really like it quick and easy in the kitchen, so that, they have all the time left in the world to enjoy the festival chilling out and partying with family, friends and relatives instead of spending hours in the kitchen. Also, this menu is fantastic for any last minute arrangement, when you have to rush up and make something good and edible for your guests. Simple yet delicious, easy and quick to make, this menu gets a thumbs up from me for the good things it brings on the dining table and how. Also, this menu makes a perfect treat for the Hanukkah weeknight!
Ground Sirloin Stew with Dill Egg Noodles
Spinach Salad
Chocolate Hazelnut Sandwiches
Best 5 Hanukkah Menus for Hanukkah Feast – Fancy Hanukkah Menu
For those who like to go unique in everything or at least would like to enjoy their Hanukkah feast in a different way, amongst them this contemporary menu is sure to be a big hit –
Polenta Bites Provencal
Grilled salmon with Lemon herb matzo crust
Fruit and nuts couscous stuffing
Frizzled mushrooms with sugar snap peas
Roasted pear shortcakes with a topping of warm toffee sauce
Grapefruit sparkler
Best 5 Hanukkah Menus for Hanukkah Feast – Healthy Hanukkah Menu 
For all those dieters who believed traditional Hanukkah is all about super oily fried foods and fattening dairy products, this menu with low-fat and low-carb dishes is the perfect solace –
Cheese balls
Cauliflower latkes / cabbage latkes with a homemade fresh applesauce dip
Fruit punch
Mulled wine
Picture Source: tasteofhome.com
Best 5 Hanukkah Menus For Hanukkah Feast