Unique Hanukkah Menus To Celebrate The 8 Days Of Hanukkah
1 Dec 2010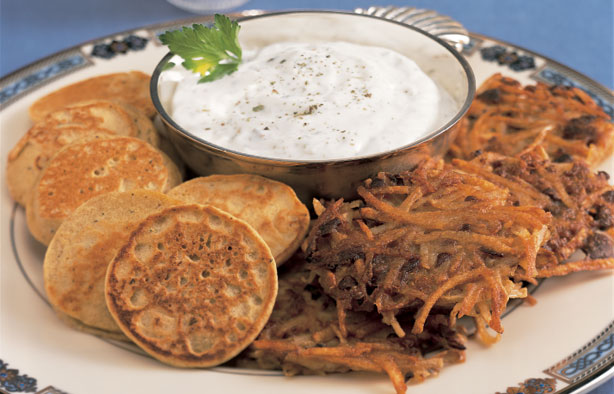 If you are in search of unique Hanukkah menus to celebrate the 8 days of Hanukkah, then this blog will help you to identify your chores and enrich your dining experience.
Latkes are amongst the most favored Hanukkah dishes. You can cook them on all days, with different ingredients other than potatoes. You can make some healthier choices by substituting potatoes with cabbage latkes, cauliflower latkes, zucchini latkes or you can try something unique like the colorful vegetable latkes. Vegetable latkes can be prepared using vegetables like carrot, and zucchini and cauliflower in proportionate amounts.
Hanukkah Dough Balls can add zest to your celebrations and exactly serve the purpose of Hanukkah. You can strain the excess oil from the dough balls by using issue paper.  The dough balls are prepared using apple sauce, and for distinguished flavors you can serve them with some common assorted dips such as cinnamon sugar, heated raspberry preserves, hot chocolate sauce, and hot honey, chopped nuts, and heated marmalade with shredded coconut.
Marshmallow Dreidels may strike the nostalgic chords within you because they remind you about the dreidels that are played during the Hanukkah. These multicolored sweet dreidels can't spin well, but they taste good. Use the icing to write different words on each side of the Dreidel.
Sufganiyot incorporates the essence of baking tradition that Jews have developed over the years. Sufganiyots are also known as Jelly Bismarks in German or Ponchkes in Yiddish. Traditionally raspberry or apricot jam is used to stuff these sufganiyots, but they taste good with cream filling and chocolate too. You can also try your hands on some gluten free sufganiyot recipes.
Sweet and Sour Cabbage Soup can be served during the Hanukkah. As weight watchers may disagree with the healthiness of the soup, and in order to make it light you can substitute sucralose in place of the sugar. The home made beef stock is the base for this cabbage soup. The recipe is flavored with dill and sweet paprika.
Noodle Kugel is a semi-sweet noodle and can be served as a delicious side dish for a dairy meal, or for a light lunch. Other than egg noodles, spinach, broccoli, spinach, cranberry, apple, and sweet potato are also used in the preparation of noodle Kugel. Cinnamon, farmer's cheese and raisins can be added for enhanced flavors.
Apple Dumplings are perfect to be cooked during Hanukkah. The dumpling derives it's warm, sweet, and flaky texture and flavor from the Apples. Some say that the Apple dumpling is a bit time consuming , but its taste makes you forget all. You can serve them with whipped cream or ice cream. We bet that kids and elders will pine for it.
Khoresh Fesenjen is a traditional chicken-pomegranate stew, which can go well with most of the kosher breads and other foods. You can make some minor variations to the original recipe to enhance its flavors, like angelica powder can be substituted in place of the cardamom and pomegranate paste in place of the pomegranate juice. This can be a nice change from the regular fare of dishes that you make every year.
Image courtesy: bonappetit.com
Unique Hanukkah Menus To Celebrate The 8 Days Of Hanukkah