Top 5 Kosher Soup Ideas for Hanukkah Dinner
30 Nov 2010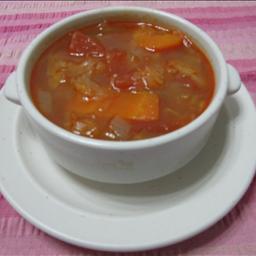 Game to discover the top 5 kosher soup ideas for Hanukkah dinner that can spice up your Hanukkah party? If yes, here lie the secret soup ideas exclusively for you, my dear friends…
Top 5 Kosher Soup Ideas for Hanukkah Dinner – Cabbage soup
The kosher soup made of cabbage is the traditional most soup of Hanukkah.  The soup is prepared by mixing chopped cabbage, sugar, water, salt, onion slices, lemon pulp, apple slices, ketchup and whole tomatoes all together and simmering the combination for a couple of hours.
Top 5 Kosher Soup Ideas for Hanukkah Dinner – Mushroom Soup
This kosher soup made of mushrooms is another traditional favorite on the festive occasion of Hanukkah. This soup is cooked by first, sautéing the onions and mushrooms in margarine, half and half sweet cream and olive oil. Then, some vegetable bouillon is added to the sautéed veggies. The soup is then seasoned with nutmeg, salt and pepper, simmered for few minutes and served hot.
Top 5 Kosher Soup Ideas for Hanukkah Dinner – Farfel-Potato Dairy Soup 
A delicious kosher soup, the farfel potato dairy soup has been passed on from one generation to another to keep alive the customary tradition of serving soups for Hanukkah dinner. The preparation of this delightful Hanukkah soup begins by sautéing the onion slices in melted margarine or oil. Once the onions are browned, hot water is added and the mixture is brought to a simmer. Next, the barley shaped noodles, pepper, salt and potato cubes are mixed into the soup and simmered covered till the potatoes tenderize. Then, some milk is added to the soup and it is simmered few more minutes with continuous stirring. This readies a hard to resist, delicious Hanukkah soup!
Top 5 Kosher Soup Ideas for Hanukkah Dinner – Chicken Soup with Hanukkah Noodles
For this incredibly delicious Hanukkah soup recipe, a package of lasagna noodles is cooked till al dente. Next, with the help of Chanukah cookie cutters, menorah, dreidel and other such Hanukkah shapes are cut out of a simple flour dough and boiled. Now, some chicken pieces and vegetables like onion, soup greens, fresh carrots, leek, parsnip, turnip etc are simmered in boiling water with a bouillon cube and some sugar thrown in. Finally, the Hanukkah shapes and noodles are floated over the cooked soup and served hot.
Top 5 Kosher Soup Ideas for Hanukkah Dinner – Chicken soup and matzo balls
For this delicious soup recipe, chicken, carrots and onions are roasted and then, simmered in a stock pot of boiling water with seasonings like celery, bay leaves, dried thyme, parsley and black peppercorns. The soup is then strained and set aside. Now, the matzo balls are prepared by whisking eggs, oil or chicken fat, ground nutmeg, chopped dill, soda water, matzo meal, black pepper and salt and rolling them into tiny balls. These balls are simmered covered in boiling water and dropped into the soup just before serving.
Picture Source: bigoven.com
Top 5 Kosher Soup Ideas For Hanukkah Dinner