Best 5 Common Jewish Foods Included In A Hanukkah Menu

30 Nov 2010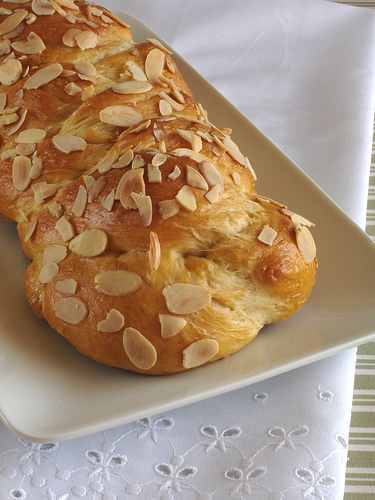 Jewish celebrate Hanukkah with a set menu but many common foods are seen to overlap with the special Hanukkah menu. So here are the best 5 common Jewish foods included in a Hanukkah menu as well. These dishes are savored throughout the year including Hanukkah.
Challah
Challah is attractive looking golden colored braided bread. It's a very common Jewish food that is served for Hanukkah as well. Challah is a common Jewish holiday food eaten on every Fridays at dinners and on Saturdays as well. Challahs are served hot and the flavor is hard to resist.
Potato Latkes
Jewish are crazy about potato latkes. While this recipe has a special place in the Hanukkah menu it is a very common Jewish food, eaten throughout the year. Potato latkes are pancakes; shallow fried in olive oil and has a crispy texture that makes it the most interesting food. They are eaten in a number of ways, as snacks, appetizer, side dish and as a winter food. Because of it wide prevalence potato latkes is considered a common Jewish food though it is a tradition to eat latkes for Hanukkah.
Lokshen Kugel
Lokshen kugel is a dessert prepared from egg noodles. This dish is actually noodle pudding containing cheese, egg, cinnamon, raisins, sugar, butter and sour cream. It is baked casserole recipe that is served and relished throughout the year. However lokshen kugel is an important dessert in a Hanukkah menu. It tastes so delicious that Jewish like to eat kugel at anytime of the year.
Rugelach
Rugelach is a special Jewish pastry that is available every where in Israel and almost all the time. This triangular shaped stuffed pastry is similar to a nut roll filled with nuts but there are many different fillings available like walnuts, chocolate, raisins, marzipan, cinnamon or poppy seeds. Though it is a common Jewish food, it is savored during Hanukkah and is often gifted as well.
Sufganiyah
It is stuffed with jelly doughnuts though sometimes custard stuffing is also done. Powdered sugar is sprinkled over it as a garnish. Dark doughnuts sprinkled with white sugar make them look delicious and they are actually irresistible. Sufganiyah is available in all bakeries across Israel but still loved on the occasion of Hanukkah. It is the most special dessert and used as Hanukkah food gift as well.
Image courtesy:  static.flickr.com
Best 5 Common Jewish Foods Included In A Hanukkah Menu