Top 5 Jewish Desserts To Serve At Hanukkah Party

30 Nov 2010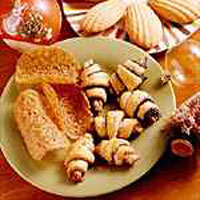 A party is never complete without a dessert, so is the case with Hanukkah party. Here is a list of top 5 Jewish desserts to serve at Hanukkah party. Choose a couple of them or choose them all, they are all unique in their own way.
Walnut and Cinnamon Rugelach
It's a traditional Jewish dessert made with cottage cheese. Traditionally this dessert is made with a filling of walnut and little bit of cinnamon. An extremely delicious dessert, this traditional Jewish dessert has other variations of fillings like cranberry. The crispy texture and savory taste is perfect for treating guests at your Hanukkah party.
Sufganiyot
It is the most popular traditional dessert, almost synonym with Jewish desserts for Hanukkah party. It is deep fried donuts filled with jelly. Over a period of time this traditional Jewish dessert has been experimented with different fillings like strawberry and vanilla.
Cupcakes
Cupcakes are also very famous for Hanukkah festival. Cupcakes in innumerous themes depicting the tradition of Hanukkah can be seen during Hanukkah. They are attractive to serve for Hanukkah party and an extremely delicious dessert.
Cherry Cheese Blintzes
This contest winning Jewish dessert is a must have in the menu for a Hanukkah party. The cherries add flavor and provide an elegant look to the dessert.
Apricot Cheese Kugel
 Kugel are fun desserts to have. Apricot cheese kugel is made of egg noodles and loaded with cheese and apricots. This baked dessert is everyone's favorite.
Image Courtesy:    goodhousekeeping.com 
Top 5 Jewish Desserts To Serve At Hanukkah Party