Best 5 Kosher Foods to Serve at Hanukkah Party
29 Nov 2010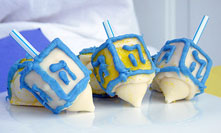 Wondering what could be the best 5 kosher foods to serve at Hanukkah party so that all the invitees leave with a happy stomach after dinner at your place? Read on to discover…
Best 5 Kosher Foods to Serve at Hanukkah Party - Potato Latkes
You are celebrating Hanukkah and there are no potato latkes on the menu? Well, that never happens right? Kosher foods like crispy potato latkes are traditional favorites on the occasion and hardly go missing from the Hanukkah dinner spread. These delicious potato pancakes are made from a batter that's prepared with grated potatoes and onions. This batter is then spooned into the oil and fried to result into a simply irresistible starter. The latkes are symbolic too! These remind of the miracle of the oil pitcher in the Hanukkah story. The latkes have evolved from the milchig pancakes and most importantly because potatoes were the main vegetable available during the Hanukkah season.
Best 5 Kosher Foods to Serve at Hanukkah Party - Hanukkah Dough Balls
Dough balls are delicious kosher foods hard to give a miss during the Feast of Lights! These yummy Hanukkah snacks are prepared by simmering a mixture of apple juice, margarine and flour, which automatically clump up to form a ball. This dough is then combined well with beaten eggs and spooned into the hot oil for forming golden brown puff balls. The Hanukkah dough balls are best relished with a platter of warm honey and chopped nuts, hot marmalade and shredded coconut, cinnamon sugar or hot chocolate sauce.
Best 5 Kosher Foods to Serve at Hanukkah Party – Marshmallow Dreidels
Dreidels are traditional kosher foods highly enjoyed during the festive occasion of Hanukkah. The dreidels are prepared by pushing a toothpick or a licorice stick through the marshmallow, which contains a chocolate kiss glued to it by some icing. Much often, these dreidels are iced with letters like gimel, hei, nun, shin and other Hanukkah symbols. This is a great favorite with the kids.
Best 5 Kosher Foods to Serve at Hanukkah Party – Sufganiyot
Sufganiyots are kosher foods which are a must include in the Hanukkah feast. A doughnut fried from a batter of sugar, cinnamon, flour, salt, margarine, yeast and egg yolk and filled with jelly, this is one dessert hard to resist when served with a topping of sugar dust.
Best 5 Kosher Foods to Serve at Hanukkah Party – Hanukkah Brisket
The Hanukkah brisket is an old fashioned recipe which shows up with the same élan even to this day, in the most fashionable and hippest of Hanukkah parties! The secret recipe for this heavenly tasting soup is to cook it slow, very slow. So, a slow cooker is best for this recipe, inside which, the onions form the bottom, the garlic comes next, then the combination of red wine vinegar, ketchup and brown sugar make up the third layer and finally goes the beef. The gravy for the brisket is made with water and seasonings.
Picture Source: familycorner.coml
Best 5 Kosher Foods To Serve At Hanukkah Party