Hanukkah Latkes: A Delectable Hanukkah Food Tradition
29 Nov 2010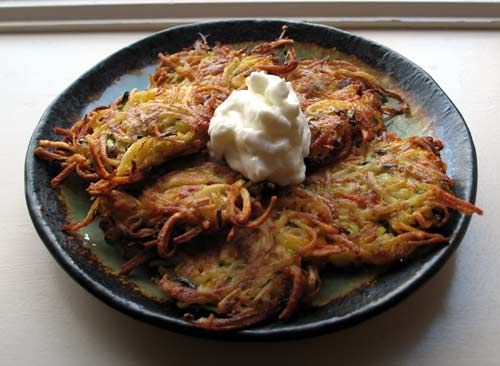 Latkes are a part of the delectable Hanukkah food tradition.  As we all know that Hanukkah is dedicated to olive oil and there cannot be a better option of commemorating the occasion than frying up delectable Latkes.
Here is some information for all those who don't know what Latkes are? And why are they eaten during the Hanukkah?

Latkes are the potato pancakes which are normally prepared by frying grated potatoes, egg, and flour in olive oil. The Latkes are often flavored with garlic or onion seasoning. They are served with savory or sweet side dishes.

 

Latkes are generally prepared and eaten during the Hanukkah because the oil used for cooking it reminiscent of the miracle that occurred in ancient Israel. According to the Hanukkah story, the Syrian-Greek King Antiochus began his plan of destroying Jews under his control. Antiochus succeeded in his plan and conquered most of the Jewish areas with his force, but when he reached Modi'in, on the outskirts of Jerusalem he was opposed by the Maccabee warriors led by the priest Matiyahu and his sons. After the victory the Maccabee warriors re-dedicated the Great Temple to the God and people of Jerusalem. But when they rekindled the menorah (traditional lamp) at the Temple, there was only very little of the olive oil left which could burn for a day. But eight days later, the chief priest found that the menorah has burned miraculously for eight days and nights. This time was just enough for plucking the fresh olives from far way lands for preparing oil to light menorah and bringing it to Jerusalem. Thus, began the tradition of celebrating Hanukkah.
In this space, we offer you different Latke recipes suggested by IFOOD –food experts:    
Winter Sunshine Latkes

As the name suggests these latkes announce the arrival of  winter time. They are also nicknamed as "glowing little suns". Other than potato several other winter vegetables like parsnip, carrot, sweet potato, and ingredients like eggs, flour, baking powder, salt, black pepper, parsley, olive oil, and yoghurt are used in preparation of the winter sunshine latke.

Each Latke packs in: 12 grams carbohydrates; 15 grams fat; 2 grams saturated fat; 3 grams protein; 2 grams fiber; 2 grams sugar; 53 mg. cholesterol; 463 mg sodium and  in total packs in  189 calories.


 

Latkes with caviar toppings

Latkes serve as the versatile vehicles for delicious toppings. You can use many types of toppings to convert the regular latke into an exotic dish. You will need baked potatoes, flour, whipping cream, eggs, salt, pepper, olive oil, and salmon roe to prepare this kind of latke.

Each Latke with salmon roe packs in: 4 grams carbohydrates; 22 mg cholesterol; 2 grams fat; 0.08 gram fiber; 1 gram protein; 37 mg sodium; and in total packs in 39 calories.


 

Apple Latke

IFood experts love to call it a "multipurpose Latke" because it perfectly embodies the purpose of Hanukkah and also serves as a dessert because it looks more like apple fritters. Powdered sugar or cinnamon sugar is used for garnishing the latke. This recipe is inspired from Claudia Roden's "The Book of Jewish Food" (Knopf, 1996). You need apples, cinnamon /powdered sugar, brandy/rum/fruit liquor, eggs, oil, flour, salt, water and powdered sugar to prepare this Latke.

4 servings of each Latke pack in: 47 grams carbohydrates; 106 mg cholesterol; 4 grams fat; 0.78 gram fiber ; 6 grams protein; 91 mg sodium; and in total packs in 272 calories.


 

Sweet Potato Latkes

On hearing it you may think that these latkes are going to turn up sweet, but you are mistaken they are very much on savory side than the sweet. You need onion, eggs, salt, white pepper, flour, oil and sweet potatoes to prepare this latke.

Each serving packs about: 51 grams carbohydrates; 106 mg cholesterol; 4 grams fat; 7 1.65 grams fiber; grams protein; 497 mg sodium and in total packs in 269 calories.


 

Zucchini Latkes

The golden green color of the latkes makes them more appealing. This recipe is taken from "Faye Levy's International Jewish Cookbook" (Warner Books, 1991). You need yoghurt, fresh mint, cloves, salt, and black pepper to make yoghurt mint topping and zucchini, garlic, salt, black pepper, egg, flour and mint sprigs to make pancakes.

Each pancake serves: 3 grams carbohydrates; 19 mg cholesterol; 2 grams fat; 0.17 gram fiber, 2 grams protein; 64 mg sodium;and it total pack in 36 calories.
Image courtesy: thehotzoneonline.com
Hanukkah Latkes: A Delectable Hanukkah Food Tradition