How To Celebrate Hanukkah
28 Nov 2010
Hanukkah is celebrated in memory of the victory of Maccabees over the Greek and Syrian armies at the temple of Jerusalem.  If you are pondering over the ways of celebrating Hanukkah at home, then this blog can serve as your home guide.
Many of the Jewish youngsters may not be aware of the importance of the festival. For all of them let's begin on a note, as why is Hanukkah celebrated? Hanukkah is an eight-day festival, which is celebrated on the 25th day of the Jewish month of Kislev. This year the Hanukkah falls from December 1st to 9th. This festival is celebrated in memory of the miracle that occurred post the victory of Maccabees. The temple was to be re-dedicated after the renovation purpose, and the chief priest found that there was not enough oil to burn the lamp for days until the renovation process continued. He forgot about the issue, eight days later when the renovation worksfinished, during the time of re-dedication the priest found that the lamp was still burning. Thus, began the tradition of celebrating Hanukkah.

 
As any other festival Hanukkah is marked with usual fare of food, gifts, music and Dreidel.The choices for gifts, games and music may vary from person to person, but the food choices are unique . Fried food is chief attraction of the traditional Hanukkah celebration.  These are some of the foods that form part of the colorful Hanukkah celebration.

 
Potato Latkes

As we all know that Hanukkah is dedicated to olive oil and Latke is a potato pancake which is shallow fried in olive oil, and prepared using egg, flour and potato. They can be topped with various ingredients ranging from sweet to sour.  
Point of interest: Although Latke is prepared and savored in almost all Jewish homes during Hanukkah, but they are not served at any of the restaurants or stores around Israel.
Crockpot Beef Brisket
This is one of the best ways of cooking beef. An equal mix of wine, spices and meat add authenticity to this recipe. The traditional Crockpot beef brisket is prepared with ingredients like beef brisket, garlic, red wine vinegar, tomato ketchup, salt, brown sugar, pepper, onion, flour and water.
Point of interest: The delicious twist of the traditional Crockpot beef brisket is that the recipe creates its own sauce, thus you don't need to serve sauce separately.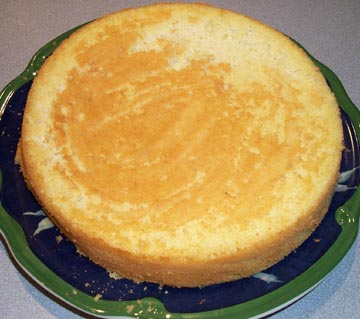 Almond Sponge Cake with Raspberry Sauce
A spongy almond cake is one of the most stunning and elegant ways of kicking off the Hanukkah celebrations.  Egg whites, salt, egg yolks, slivered almonds, matzoh meal, sugar, brandy and amaretto liquor is used in preparation of almond sponge cake.
Point of interest: The tartness of cranberries used in raspberry sauce can be balanced by adding some cranberry jam.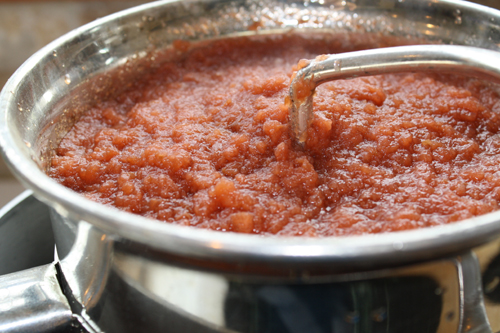 Crockpot Applesauce
The sweet aroma of this sauce fills your house with the announcement that celebration time is here. Granny smith apples, lemon juice, brown sugar and cinnamon are used in preparation of this sauce.
Point of interest: You can relish the Thanksgiving hangover by using the pumpkin pie spices while cooking apples.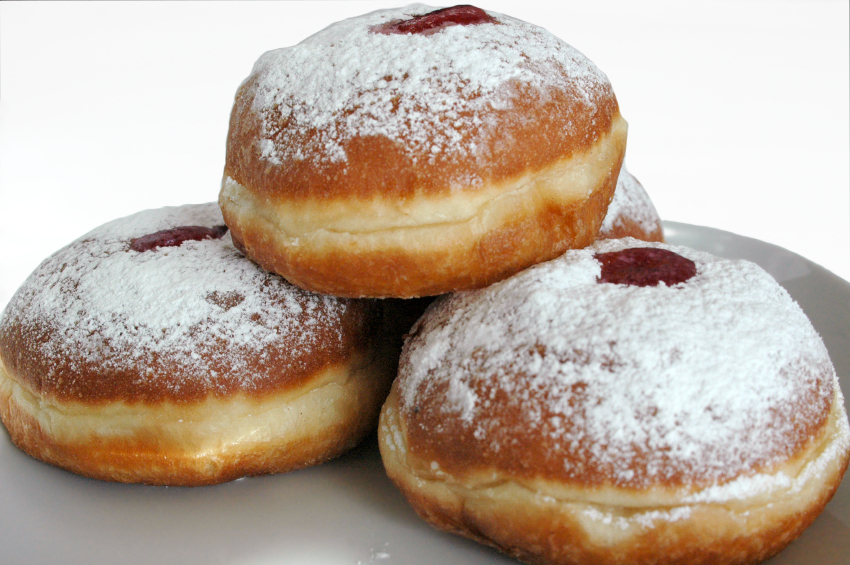 Sufganiyot

Sufganiyots are ball- shaped doughnut,which are deep fried without holes and injected with jelly. Flour, dry yeast, sugar, salt, ground nutmeg, water, egg, jelly, peanut oil, and powdered sugar are used to prepare the typical Israeli Sufganiyot.  Various bakeries around Israel use dulce de leche, vanilla cream, chocolate cream, arak and cappuchino fillings in their Sufganiyots.
Point of interest: Angel Bakeries in Israel, claim that they sell almost 2, 50,000 sufganiyots every day during the Hanukkah. 
Image courtesy: bhg.com ;  img4.sunset.com ; prouty.blogs.com ; healthygreenkitchen.com;forum.lookbook.nu
How To Celebrate Hanukkah