Best 5 Vegetarian Hanukkah Food Ideas

27 Nov 2010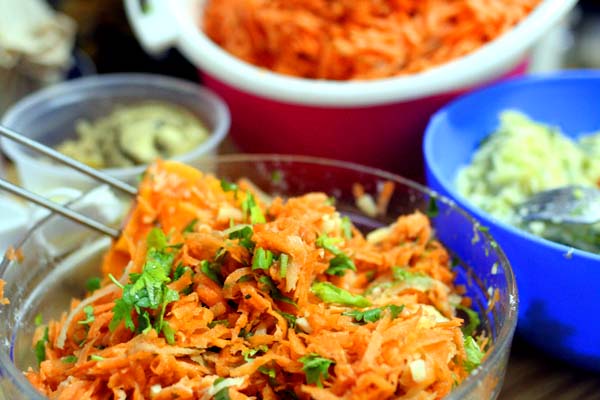 If you are baffled what to serve your vegetarian guests for this Hanukkah day, here are the Best 5 Vegetarian Hanukkah Food Ideas that never go wrong! With these savory vegetarian Hanukkah recipes, you are sure to please the eminent green eaters in your guest list.
Potato Latkes
This mouth-watering delicacy of fried potato pancake is indeed on the top of the list of Hanukkah food for the veggie lovers. In fact, the dish is an authentic Jewish food and a customary dish of the Hanukkah festival. Potato Latkes is typically prepared from potatoes, which is the best harvest of the Hanukkah period and fried dough made of flour.
Cheese Fritters
This creamy cheese delight will be undoubtedly welcomed by your vegetarian guests. The main ingredients of the dish, milk and cheese, commemorate the bravery of the Jewish heroine, Judith, who according to the legends defeated her enemy by charming them with these food enticers. Therefore, cheese fritters is the perfect option to serve as a customary dish in this auspicious day.
Beet and carrot pancakes
Beet and carrot are the fresh harvests of the time and hence there is nothing more traditional than using these new harvests for making Hanukkah food. Apart from the above ingredients, egg, olive oil, flour and low-calorie sour cream are other additions to the dish. The dish is typically fried for a crisp flavor, however, some people may resort to baking the delicacy to make it health-friendly.
Country Time Lemon loaf
This is yet another warm and easy-to-eat delicacy to beat the cold this Hanukkah. The main ingredients required for this simple dish are grated lemon peel, bread flour, vegetable oil, sugar and egg white. The main preparation method of the dish is oil frying which qualifies it for an authentic Jewish recipe for Hanukkah.
Crunchy caramel apple pie
As every feast is considered incomplete without the serve of a special dessert… offer the fine blend of crushed apple and caramel with this delectable dessert, crunchy caramel apple pie to culminate the grand Hanukkah feast. Save the dish for the end, sprinkle chunks of pecans on the top and serve it warm.
Image credit- lizsteinberg
Best 5 Vegetarian Hanukkah Food Ideas