How to Celebrate Hanukkah Food Traditions With Jewish Food

27 Nov 2010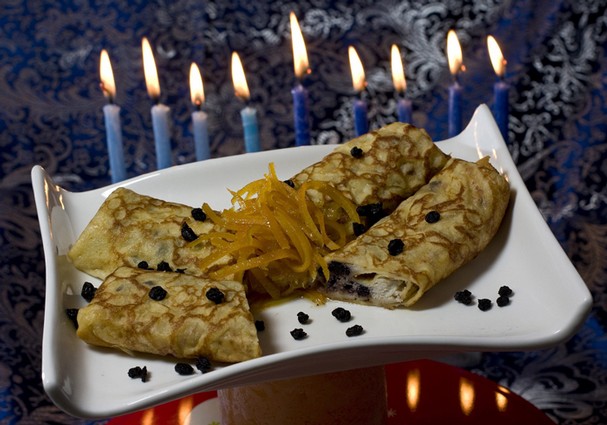 Hanukkah is the festival of lights, revelation and most importantly delectable Jewish food. With the festivity just round the corner, here's "How To Celebrate Hanukkah Food Traditions With Jewish Food".
But before I jump into the food aspect, allow me to give a short briefer on the essence of Hanukkah festival.
Hanukkah festival
Hanukkah is one of the most important festivals of the Jews as it marks the victory of their brave soldiers over Syrian-Greeks in the 165 BC. The victors re-dedicated their holy temple of Jerusalem, which is one of the most revered Jewish temples in the world.
Essentials of Jewish food for the Hanukkah day
Oil and milk are the two essential ingredients of the Jewish delicacies especially prepared on the Hanukkah day. According to the legends, oil signifies the miraculous oil of the holy flame which survived through eight long days of re-dedication of the temple of Jerusalem. Milk is another customary ingredient which is symbolic of the bravery of Jewish heroine, Judith who paved her way to success after charming her enemies with milk and cheese.
Potato Latkes
Food is an eminent part of the celebrations for the Hanukkah eve. Potato Latkes is popularly cooked in almost every Jewish household on the occasion as it is typically cooked in oil. The preparation of dish commemorates the holy oil which essentially survived throughout the procedure of rededication of the temple. Since potato is the main harvest readily available at the time of the festival, potato latkes is a traditional Jewish food to savour in the occasion of Hanukkah.
Hanukkah dough balls
The dish is basically prepared by frying the dough mixture made of apple juice, flour and margarine. The dough is not removed from gas until it turns into a brown crisp appeal. The dish is best served with accompaniments like hot chocolate, powdered sugar, chopped nuts, and shredded coconut. Since the main method of cooking the dish is oil frying, Hanukkah dough balls is another authentic Jewish food perfect for the occasion.
Sufganiyot
The delicacy is a preparation of milk, sugar, butter, cinnamon and strawberry preserves. It is the perfect dessert to commemorate the bravery of Judith, ancient Jewish heroine, in slaying her enemies. This dessert is much reserved for savour at the end of the feast.
Here's wishing Happy Hanukkah in advance to all! 
Image credit- vcstar
How To Celebrate Hanukkah Food Traditions With Jewish Food