10 Best Holiday Cookie Ideas
25 Nov 2010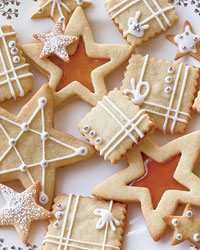 Finally it is end of the year and it is the time to smell the aroma of freshly baked homemade cookies. If you are into baking, then here are 10 best holiday cookie ideas, which you must try for the coming holiday. Start preparing from now with these holiday cookie recipes, so that during the festive season you can have enough stock to serve your guests.
10 Best Holiday Cookie Ideas
Sugar Cookies
Start your holiday mornings with a sugary taste. Prepare the dough by combining flour, butter, eggs, sugar and vanilla extract in right proportion. Don't forget to add a pinch of salt. Leave the dough for couple of hours inside the refrigerator before rolling and cutting out the cookies. Sprinkle little more sugar on top and put them inside the oven to bake.
Snowflakes
Combine the flour with salt and cinnamon powder. Next add cream cheese, shortening, eggs, sugar, orange rind and vanilla to prepare the dough. Use cookie press to bring out the cookies. Decorate them with colored sugar and bake them at 350F for 12-15 minutes.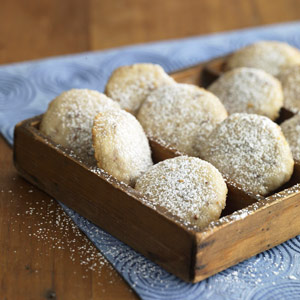 Swedish Butter Cookies
Whip the butter with sugar and then beat eggs and vanilla into this. Next add flour, baking powder and salt and combine all together to prepare the dough. Refrigerate the dough and then roll out on floured surface. Use cookie cutters in different shapes to cut out the cookies. Use your creative mind to decorate these cookies. Bake them inside the oven until they turn hard.
Snow Top Cookies
Beat eggs and sugar into the mixture of melted shortening and melted chocolate. Make the dough by adding flour, baking powder and pinch of salt. Put the dough inside the refrigerator overnight for best result. Before baking, shape the dough into small balls and roll them into ground sugar. Bake for 10-12 minutes at 350F.
Candy Cane Cookies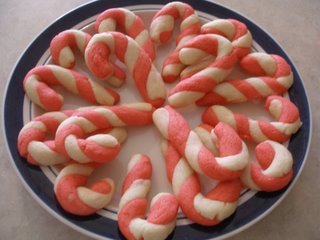 Prepare the cookie dough by mixing flour and salt with the mixture of butter, sugar, confectioners' sugar, eggs and preferred flavorings. Make two parts out of this dough and mix red food coloring in one part. From both the halves, make out rope like strips in both the colors. Use these flour ropes to twist with each other. Cut in smaller size and bend the top portion like a cane. Bake for 10 minutes to make them lightly browned.
Whoopie Pies
Prepare the filling by combining marshmallow fluff, sugar powder, milk, vanilla, salt and shortening. Let is set into the refrigerator. You can also mix food colors in this filling. Now prepare the cookies in normal way. Bake them and allow them to cool. Now use the filling to spread on top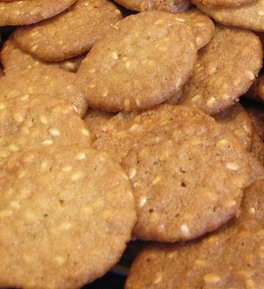 of one cookie and cover them with another.
Sesame Seeds Cookies
Toast half part of sesame seeds on a heated skillet. Prepare the cookie batter by mixing flour, sugar, butter, baking powder, vanilla, egg and water. Beat well to make a smooth blend. Stir in the remaining part of sesame seeds into the dough. Use a tablespoon to take the dough and give them oval shape by rolling into toasted sesame seeds. Set for into oven for baking.
Gingerbread Cookies
Combine the sugar with molasses in a heated saucepan. Let it cool and meanwhile, you combine the flour with ground ginger, baking powder, cinnamon powder and nutmeg powder. Beat egg into the cool molasses mixture. Now add the dry mixture into this and prepare the dough. Refrigerate for few hours. Bring out and roll out in a floured surface. Use gingerbread cookie cutter to cut the cookies. Put these into oven for baking. Use icing to decorate according to your wish.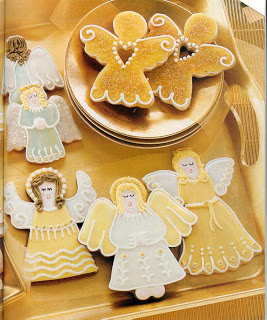 Angel Cookies
Prepare the cookie dough in normal way, by combining flour, baking soda and salt with fluffy mixture of cream cheese, shortening, eggs, vanilla and sugar. Finally, generously add candied fruits and nuts. Now drop the batter on the cookie sheet using a tablespoon and bake them at 350F.
Almond Cookies
Use finely chopped almonds to beat with eggs, sugar and vanilla. Shape properly with spoon. Bake into oven at around 20 minutes. Bring out when done and allow them to cool. You should store into a plastic air-tight container for later use.
Image Courtesy: foodandwine.com, recipes.betterrecipes.com,
welcometothesnug.blogspot.com, whatscookingamerica.net, ringching.com
10 Best Holiday Cookie Ideas