Top 10 Thanksgiving Salads

18 Nov 2010
Thanksgiving salads need to be unique and innovative! Any Thanksgiving meal is considered to be incomplete, until  perfect salads are served. You need to have some really innovative salad ideas which are not repetitive and are good to eat. Here are top 10 Thanksgiving salads which you can try out this year and surprise your guests with your culinary skills.
Bacon and tomato salad – Hard cooked eggs in mixed greens makes this salad really special. French dressing enhances the taste of this special Thanksgiving salad…try it out this year and watch how your guests appreciate its taste.
Cajun rice salad – Cooked rice, mayonnaise, bell peppers, chopped bread and onions mixed together makes this salad very different from all other salads which are served. Tobasco sauce is added to the rice salad and tossed well so that all the ingredients mix well to give a lovely taste to the salad.
Creamy vegetable salad – Nothing can be as wonderful as a creamy mix of broccoli,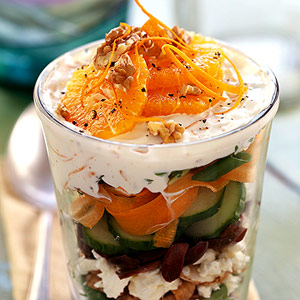 cauliflower, onions, cherry tomatoes, bell peppers and other greens. Chopped celery and tomatoes in mayonnaise is simply mouthwatering!
Roasted pepper salad – You will love the taste of green peppers, minced garlic, oregano, diced cucumbers, salad greens, sliced onions, tomatoes and salad oil. All the ingredients are tossed in red wine vinegar before serving.
Hot tangy vegetable salad – Tangy dressing in fresh green beans, zucchini, bell pepper, tomatoes and cauliflower makes this salad lip-smacking. You will love the taste of Parmesan cheese and lemon juice in mixed vegetables.
Pasta salad with herbs- This is one of those salads which you can enjoy with grilled meat dishes. It is prepared with basil, tomatoes, parsley and pasta along with other herbs and seasonings.
Green pea salad – Green peas with bacon and sour cream enhance the taste of this Thanksgiving salad. Fresh green onions, fresh or frozen peas, dill and pepper help to enhance its taste.
Spicy carrot salad –  You will love the taste of carrots with lemon juice, olive oil, garlic, cinnamon, ginger and salt. Chopped apples and raisins help to enhance the taste of this salad making it really interesting. It is perfect for your Thanksgiving dinner menu.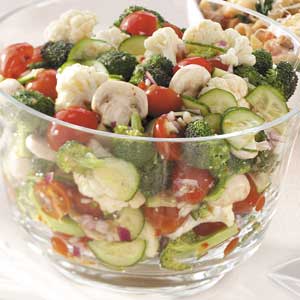 Marinated vegetable salad – Vegetable oil, green beans, sweet peas, shoepeg corn, diced pimento, celery, diced bell peppers, chopped green onions and cider vinegar help to make this salad delicious. Use your own choice of vegetables and enjoy this vegan salad.
Green bean salad – Thanksgiving menu is said to be incomplete without this bean salad. You will love the taste of green beans, salad greens, pepper and red wine vinegar which is mixed with cooked and crumbled bacons. The salad is usually served on greens and sprinkled with crumbled bacons.
Image credits - recipebridge.com
Top 10 Thanksgiving Salads