Tips for Cooking Thanksgiving Turkey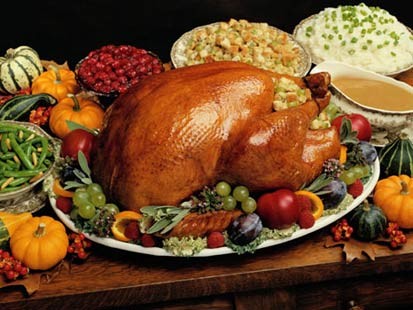 A traditional Thanksgiving dinner always has a delectable, well-bronzed and succulent roasted turkey as its centerpiece. As Thanksgiving is approaching, here are 3 quick and easy tips for cooking a Thanksgiving turkey. If you are hosting the Thanksgiving get-together this year, make a note of some of the things we mention below and your turkey will definitely be a hit amongst family and friends.
Thawing the Turkey*
Before jumping into cooking your Thanksgiving turkey, make sure you give it adequate time to thaw. Remember, the rule is to refrigerate every 5 pounds of turkey for at least 24 hours. So, if you are buying a turkey weighing 20 pounds (the right quantity to suffice a gathering of 7-10 people), make sure to thaw it for 4-5 days before cooking. Another means of thawing your turkey, besides refrigeration, is to thaw the bird under running cold water, making sure to change the water every 30 minutes.
*this only pertains to you if you're planning on purchasing a frozen turkey
Stuffing The Turkey
The most important thing to remember when stuffing your bird is to always stuff it minutes before it is ready to go into the pre-heated oven. Stuffing the bird ahead of time may bring disparities in its taste. Always stuff the turkey lightly with the help of a spoon or a spatula into the neck cavity and body cavity. Refrain from packing the stuffing too tightly so as to allow equal heating of both the interior and exterior of the bird. Adequate space also allows the stuffing to absorb moisture from inside the turkey and expand during baking time.
Roasting The Turkey
Before roasting, tie the legs of your turkey with cooking string. Then, brush the bird with butter, olive oil, or any other glaze that you might be using. The ideal temperature for roasting the bird is around 325 degrees F. Roast your turkey for about 2 hours, being sure to baste it with its juices that accumulate at the base of the oven in order to keep it moist. A good way to assess if the bird has cooked or not is by using an instant read meat thermometer and placing it right through the center of the turkey's thighs. Keep a close eye on your turkey until its internal temperature reaches 325 degrees F.
So go ahead and try these tips for cooking your Thanksgiving turkey and surprise your guests with your expertise! 
Image credit- shanghaiist
Tips For Cooking Thanksgiving Turkey