10 Thanksgiving Recipes By Celebrities
17 Nov 2010
If you are curious about what the famous personalities prefer to eat during their thanksgiving celebration, then here you will find 10 thanksgiving recipes by celebrities. All of these celebrity recipes for thanksgiving are based on vegetarianism, but each of them tastes delicious and unique from others. Let me take you through this journey of culinary celebration for the celebrities.
Sweet Cherry Tomato Pasta by Jessica Stein
The author of two cookbooks and the wife of famous comedian Jerry Seinfield, Jessica prefers to have this delicious pasta dish as an entry to her thanksgiving menu. This pasta specialty is prepared with lots of cherry tomatoes and spaghetti. Start with cooking garlic and basil leaves in hot olive oil. Add the tomatoes and cover with a lid. Let it cook until the tomatoes get split. Add these tomatoes to your cooked pasta, toss well by adding ricotta cheese. Garnish with basil leaves to serve.
Braised Chestnuts with Lemon and Sage by Donatella Arpaia
Donatella Arpaia is a famous New York-based restaurateur and entertaining authority. According to her choice, this particular chestnut delicacy is the best thing to have during the thanksgiving days. You should use cooked and peeled chestnuts to combine with butter, brown sugar, sprigs of sage, salt and water. Cook this over medium heat until the water reduces and the chestnut turns brown and caramelized. Garnish the chestnuts with lemon zest and additional sage leaves.
 Southern Pecan and Apple Salad by Jamie Oliver
Jamie Oliver is the famous British restaurateur, chef and food show personality. He is more concerned about healthy cooking habit for which he has recently started his campaign. The apple salad of his choice, offers lots of food values as well as great taste. To prepare this you have to use caramel syrup coated pecan halves with the thinly sliced fresh apples. Use a salad dressing, which is prepared by thoroughly combining orange zest, orange juice, white wine vinegar, Dijon mustard and extra virgin olive oil in right proportion. Toss the salad with the pecans and the dressing before serving.
Roasted Artichoke, Eggplant and Tomato Stacks by Mariel Hemingway
Perhaps you don't know that the famous American actress Mariel Hemingway; has also penned a cookbook, named as 'Mariel's Kitchen'. She has shared this favorite thanksgiving recipe in a TV show, which uses organic artichokes, organic eggplant and organic tomatoes. The artichokes are first dipped in lemon water, which is also prepared with the juice from organic lemon. Next they are placed on a baking sheet, along with the sliced eggplant and tomatoes. After brushing the vegetables with vegetable oil and seasoning with thyme, salt and pepper, the baking sheet is placed inside a 400F preheated oven until the vegetables are tender and beginning to caramelize. Garnish the dish with drizzles of olive oil and fresh thymes.
Cauliflower Gratin with Endive by Martha Stewart
While this famous American business magnet and celebrity television host was asked about her favorite thanksgiving choice, she shared this cauliflower specialty. This favorite cauliflower cuisine is prepared by layering an oven-proof dish with endives, pasta and cauliflower florets. On top of that, a whisked mixture of butter, flour, milk, marjoram, cayenne, salt, black pepper and Gruyere is poured. Breadcrumbs are sprinkled on top and then the dish is set for baking inside the oven. Bake this until the cauliflower is ready. Sprinkle parmesan on top by bringing out the dish at the middle of baking.
Moroccan Couscous with Saffron by Alicia Silverstone
Alicia Silverstone is the celebrity actress of Hollywood movies and former fashion model; who believes in healthy and delicious eating. This Moroccan cuisine is prepared by roasting the vegetables like zucchini, squash, onion and carrots. Mix the couscous with the scraped roasted vegetables and then into this mix, pour boiling vegetable broth by spicing up with saffron, pepper, cumin and salt. Cover the mixture with a closed lid for quite a few minutes and then serve by adding scallions.
Lentils with Red Wine and Herbs by Sophie Dahl
The famous English cookbook writer and former model, Sophie Dahl; fondly mentions about this recipe as a favorite thanksgiving specialty. The lentils are first boiled in water and then drained. These tender lentils are then cooked in sautéed onions and garlic by adding the wine. When the wine reduces, the spinach and stock are added to it, by stirring the crème fraiche, mache or arugula, cilantro and parsley. When the liquid gets absorbed, it is seasoned with salt and pepper.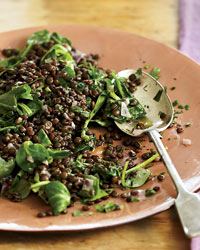 Greek Beans by Amy Sedaris
This renowned comedian and author, Amy Sedaris is very careful about healthy eating. According to her choice, this Greek cuisine can be an ideal side dish for the thanksgiving evening. Make this, by sautéing onions, carrots, basil, garlic, crushed tomatoes, oregano and beans in a skillet. Add water and allow this to be cooked over low heat. When the water reduces, add more tomato paste and then cook for few more minutes. Season this with salt and pepper before serving.
Autumn Vegetables with Goat-Cheese and Pumpkin-seed Oil by Marisa Tomei
The Academy Award winner actress, Marisa Tomei, wants to start her thanksgiving menu with this lovely vegetable appetizer. This fabulous vegan dish is prepared with roasted butternuts, artichokes and parsnips. These are added with the boiled and cooled leeks, celery root and mizuna in a large salad bowl by tossing with sherry vinegar, olive oil, salt and pepper. The pumpkinseed oil is drizzled on top before serving.
Baby Greens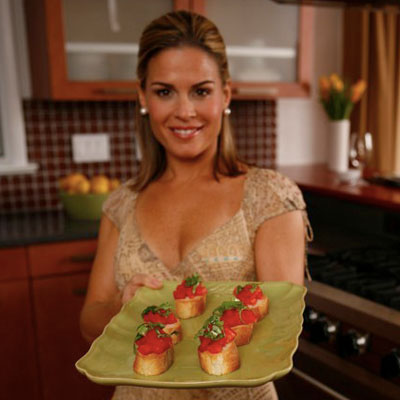 and Figs Stuffed with Gorgonzola Cheese by Cat Cora
She is the Iron Chef of a popular food show on television and here she describes one of her favorite salad recipes, which can be served as thanksgiving appetizer. The figs are stuffed with the cheese and then seasoned with vinegar, salt and pepper on a baking sheet and put inside the oven. Bake the figs until the cheese melts and then serve these with lots of baby greens.
Image Courtesy: bellavita-bellasblog.blogspot.com, health.com, marthastewart.com, foodandwine.com, delish.com
10 Thanksgiving Recipes By Celebrities