Popular Bakrid Party Food Ideas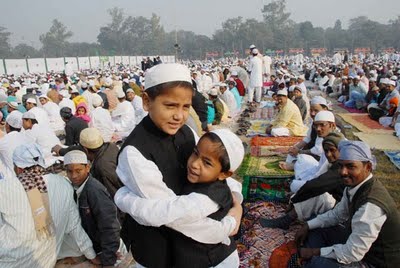 Bakrid is a time of celebration and all celebrations and parties are incomplete without an assortment of sweets and delicious food items. We decided to join in the celebrations with our article on the Bakrid party foods which contain the list of the most popular Bakrid party food ideas. Dig in for a gourmet treat!
Bakrid party food recipes
Kofta kebab: These are grounded meat balls similar to the US hamburger, and are seasoned with different spices and herbs such as mint, or parsley. The meat balls are usually oval in shape  which are put on skewers and grilled. They are served with rice or salad and chutney as a starter.
Haleem:  This is a popular snack item in the Persian and Pakistani cuisine and is a popular addition in all the festivities such as parties, celebrations, weddings.  The method of preparation varies from one country to another or one community to another, but the main ingredients such as meat, wheat flour and lentils remain common.  
Badami Chicken: A popular dish borrowed from the Mughlai cuisine. As is apparent from the term "badami" which means "almond" in the Hindi, this dish includes almonds in large quantities. The dish comprises of chopped chicken pieces marinated in an almond-coconut paste. Potatoes may be added to give a heavy texture to the dish.
Nargisi Kofta: Another popular curry dish in India, this kofta is said to be an authentic Mughlai food item. It is a prepared using minced chicken, eggs, milk and an assortment of spices. It has a rich flavor which is rendered even richer with the addition of cashews and milk in large quantities.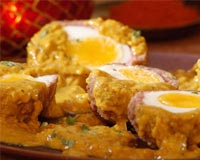 Kashmiri Biryani: A popular rice dish which has attained  a kind of a cult status around the world. Kashmiri Biryani is popular for the liberal use of asafoetida during its preparation. Biryani is essentially a rice item prepared using Basmati rice, yogurt, minced meat and different types of spices.
Handi Biryani: Another popular rice item, this is cooked in earthen pots and uses mainly vegetables and nuts in the preparation. Meat may be added as an option. Different types of spices are added liberally to give a rich, spicy flavor to the rice. Lemon wedges may be used as a garnish item while serving the biryani.
Naan: Naan is popular flat bread which is cooked in clay ovens. Leavening agent is used in the dough to prepare these flatbreads. The naan looks similar to Pita bread and may be stuffed with crushed nuts, minced meats and even mashed potatoes. Nigella seeds and Cumin seeds are often used as a garnish on the naan.
Baklava:  This dish from Turkey is widely enjoyed around the world. It is essentially a sweet pastry with a rich flavor, and is prepared by filling layers of phyllo dough with a sweet sugar syrup, honey and chopped nuts. 
Sohan Halwa: Also spelled as Sohan Halva, this is a traditional sweet enjoyed in Pakistan. Prepared by boiling together a mix of water, milk, sugar and corn flour and clarified butter, the mixture is stirred until it hardens. Dries nuts such as almonds, walnuts, pistachios may be added and saffron is added for flavor. 
Emarti: Also known as Janngiri, this sweet is prepared using Urad dal, also known as black gram. Deep fried, this sweet sometimes has patterns similar to the funnel cakes popular at the US carnivals.
So, you can use this article as a reference point to ensure that you have included some of the popular Bakrid party food recipes in your party menu. Eid Mubārak!
Image credit: viewpatna.blogspot.com,  indobase.com, blogto.com, thefullwiki.org 
Popular Bakrid Party Food Ideas