5 Best Bakrid Themed Foods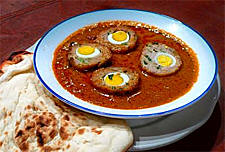 The preparations for Bakrid start several days in advance in many households and food plays an important role this day. In case you are confused about the menu for the big day, read on and get tips. The 5 best Bakrid themed foods that can be enjoyed during this season are:
Nargisi Kofta: Nargisi kofta is an authentic Mughlai cuisine, which is popular throughout North India. It is believed that this kofta was introduced in India by first Mughal Emperor - Babar. Today various types of Nargisi Kofta's are savored throughout India.

 
Nargisi Kofta is prepared by wrapping minced meat mixture around a boiled egg. This meat wrapped egg is cooked in rich spicy gravy. Nargisi kofta derives its name from Narcissus flower, because it resembles the flower in its appearance. The Narcissus flower has yellow center and is surrounded by white petals. The yellow yolk depicts the yellow center of the narcissus flower and egg whites depict the white petals of the flower. The Nargisi kofta exactly mimics the appearance of the flower when halved into four pieces.  Nargisi kofta can be enjoyed as an accompaniment to chief dish like naan, biriyani or paratha. The dish is served with fried cashew nut topping and coriander leaves garnishing.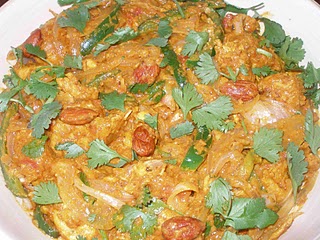 Badami Chicken:  Badami chicken is an authentic Mughlai cuisine, which is rich with the usual fare of dry fruits especially badam. Chicken cubes are marinated in rich coconut and badam or almond paste. The crunchy, nutty, and sweet taste of the dish makes it appetizing.  Other than that potatoes are also used to thicken the gravy. The lime is squeezed over the curry and served after garnishing with coriander. Badami chicken can be enjoyed with a buttery naan, and shahi pulao.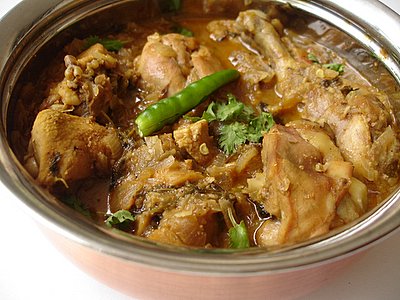 Spicy Pepper Chicken Curry: This spicy pepper chicken curry is prepared by mixing chicken with ground spices.  The chicken curry tastes good only when prepared using the fresh ingredients.  This chicken curry goes well with plain rice, or can be served as a lavish side dish for pulav rice or can be served as a dipping for nan roti or paratha.  It is garnished with fried onions and chopped tomatoes. The flavor of pepper gives a distinct identity to this curry. Hope you enjoy this delicious sounding curry this Bakrid season.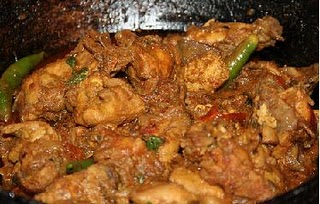 Murgh Methi: This is one of the star attractions of the Hyderabadi cuisine. Chicken is combined with fresh fenugreek leaves, which imparts tempting flavor to the dish. Even dried fenugreek leaves can be used to prepare this chicken.  This healthy dish not only looks delicious, but tastes delicious too. For obtaining the thickened gravy, methi leaves are combined with potatoes and chicken, other than that caramelized onions, spices and whisked curd form the creamy base of the murg methi.  This can be served during all special occasions.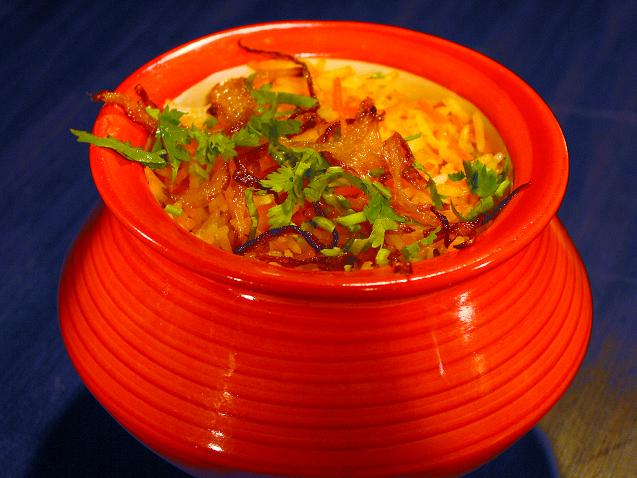 Handi Biriyani: The list of 5 Bakrid themed foods will be incomplete without the mention of this handi biriyani. Handi biriyani is cooked and served in earthern pots.  Handi biriyani can be a good deviation from meat dishes because mainly vegetables are used in preparation of this biriyani.  You can use all types of spices and vegetables like cauliflower while preparing this biriyani. The dry fruits like almonds and cashewnuts are added to flavorize the biriyani. Once done the biriyani is served after being garnished with lemons. Any chicken curry or other meat preparation can be teamed with this biriyani. 
With so many options available I suppose the only thing left for you to do is start shopping for the ingredients and prepare the dishes ASAP!!
Image courtesy: sangamny.com,  kitchentantra.com,  sailusfood.com,  2.bp.blogspot.com , jashan.com 
5 Best Bakrid Themed Foods