Why Is Pinot Noir The Best Wine For Thanksgiving

10 Nov 2010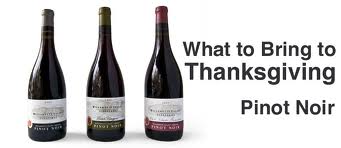 Thanksgiving is the time for some good food and drinks. Though there are several Thanksgiving wine ideas known to us, yet we all seem to love Pinot Noir! Have you ever thought why is Pinot Noir the best wine for Thanksgiving and how is it different from other wines that are available?
Why Pinot Noir is most Favored
Well – there are a number of reasons to make Pinot Noir – the most favored wine. This wine is food friendly and has very soft tannins along with tart acidity which is excellent for cutting down rich dishes. Everyone loves to have chilled wine after some rich delicacies and in such a holiday mood, all we want is comfort – so what better way can you ensure that your health does not concern you?
The Healthy Wine
Not only this Pinot Noir is full of herbs which make it a really healthy wine. You will love the herbal notes present in this wine. It has an earthiness which helps to add a special flavor and texture to several mushroom dishes and stuffed turkey delicacies which are a must during Thanksgiving or during the holiday season. Pinot Noir can be best described as a drink which is savory, very sultry and extremely elegant. Some wine lovers term it as a royal drink which is excellent to taste and can remind of fresh tart berries in a wet forest floor. No wine probably promises such exotic flavors and great taste.
Goes with any food
Pinot Noir is one of those wines which tastes wonderful with any kind of food. It is loved with Thanksgiving snacks and main course meals also. You can even try it out while having desserts. I have even seen women use Pinot Noir for marinating stuffed turkey as the exotic flavor of the wine adds a special charm to the taste of the meat dish. It can be had chilled and even at room temperature – moreover, there is no specific time to have this wine too.
A Pricy but popular wine
Pinot is one of those grapes which is quite expensive and is slightly rare also. We know that everything which is not available easily comes for a price and this is why, Pinot Noir is still considered to be one of the most popular wines. Thanksgiving is a special holiday and fun lovers do not mind to spend a little more to enjoy this special drink. In fact, you can even share this drink with all your friends and family and see what they have to say.
Pinor Noir might not be in  your budget, but bring home the taste of this magnificent wine on this Thanksgiving and let your family enjoy the lovely taste of this wine.
Image credits - thedrinknation
Why Is Pinot Noir The Best Wine For Thanksgiving