5 Best Thanksgiving-Themed Foods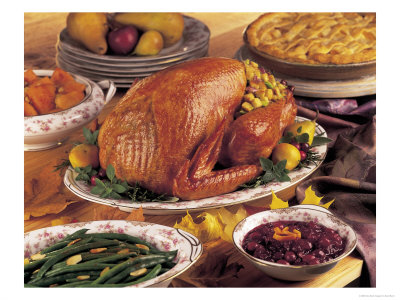 Thanksgiving has been a popular festival for all over the nation from age old days. It is the time for partying with good foods and fine beverages. With a wide array of choices, it is really difficult to identify the 5 best thanksgiving-themed foods. Most of the thanksgiving theme food ideas have been followed traditionally for generations. These days many new entries have got enlisted into the thanksgiving menu. However, while talking about thanksgiving meal, I can think of some of the most popular traditional items and these are the turkey, ham, cranberry, sweet potato and pumpkin. Without these food items, you simply cannot go forward with your thanksgiving party.
Turkey
The roasted turkey must be there to brighten up the dinner table for your thanksgiving meal. The flavor, color and texture of the roasted turkey perfectly match with the bright and warm welcoming theme of the thanksgiving party. There are several ways by which you can cook the turkey. However, roasting is the most traditional way, where you can stuff the turkey with various ingredients like bread crumbs, sausages, bacons, apples etc. 
Ham
Ham is another traditional dish served in addition to the roasted turkey. Serving ham along with the turkey; provides an alternative to the persons, who do not love turkey meat. On the other hand, it offers a change of taste and flavor from the regular thanksgiving turkey. To make a difference, specialized ham preparations can be served having different types of glazing like apple-mustard, honey, apricot, brown sugar, Dijon mustard etc.
Cranberry Sauce
Cranberry has been linked to the thanksgiving menu from perhaps the first Thanksgiving Day. So, without this entry, nobody could even think of the thanksgiving party. Readymade cranberry sauce is available in the grocery stores. But to give a personal touch to the menu, this can be prepared at home one or two days earlier the big day.
Sweet Potatoes
Sweet potatoes or yams are also considered to be one of the best Thanksgiving Day foods. Cooking sweet potatoes can be fun as you have all the options open like baking, frying, boiling, mashing or cooking. The baked sweet potatoes are hot favorite for many, whereas some prefer to have the sweet potato casserole. Whatever be the process, without yams you cannot think of throwing the thanksgiving party.
Pumpkin Pie
You won't be able to wrap up your thanksgiving party without this entry. Similar to the others, the pumpkin pie is most mandatory item as a dessert for the party. You can have other dessert preparations along with the pumpkin pie, but don't ever think of cancelling this menu from the list. The pie can be prepared in various processes and can be served with different types of frosting or garnishing.
Image Courtesy: drplayer.com 
5 Best Thanksgiving-Themed Foods