Four Fresh Ideas For Thanksgiving Centerpieces
7 Nov 2010
Thanksgiving is one of those special days when you and your whole family get to enjoy each other's company in the presence of great food! Since it comes once in a year, present your Thanksgiving table not just with turkey and side dishes but with a lovely centerpiece to tie the entire ensemble together! Here are four really fresh ideas for Thanksgiving centerpieces to give you a little inspirations.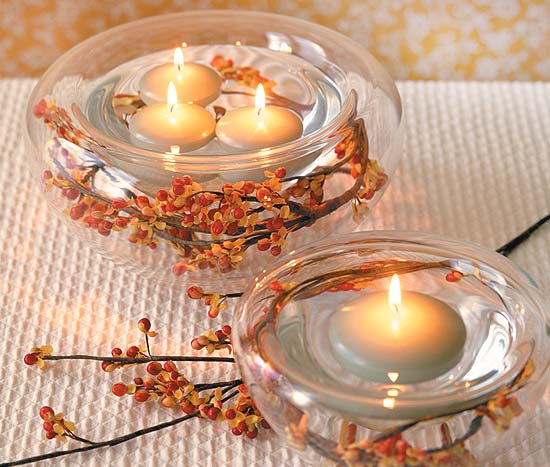 Centerpiece with Flowers: Flowers attract everyone with their beauty and fragrance and serve as great decorations during the holidays. Pick rich fall-colored flowers like red, yellow and orange. If you like Calla lilies and hydrangeas, they come in an array of colors and are in season during the fall. Instead of using a store-bought vase, try creating your own! You can hollow a pumpkin and fill it with fresh flowers or use an ice bucket for a unique display. You can also place flower petals into a glass bowl filled with water and put decorative candles in it. Flowers in dim candle light will make the ambience of your Thanksgiving table simply perfect.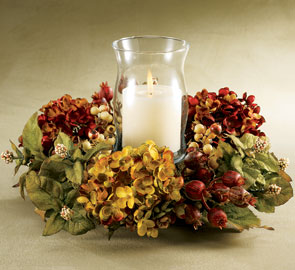 Tree branches: A bunch of tree branches covered with autumn leaves can also be an elegant decoration for the Thanksgiving table. Grab a chunk of floral-foam and insert the base of the branches in it. The choice of branches in completely up to you, but we like maple leaves, especially during autumn, for their rich red color. Once you've inserted the branches into the foam, cover it with a cloth napkin, drawstring bag, or anything else that might hide the foam base. You can also use a few pine tree branches and decorate them under and around your centerpiece.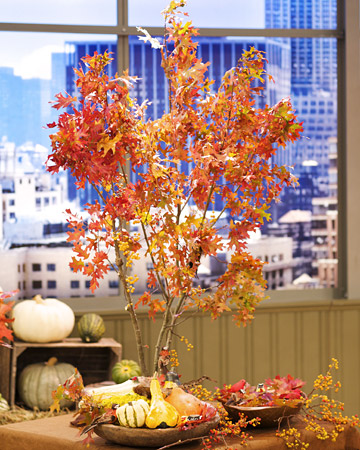 Pumpkins: Hollow-out a few small pumpkins and fill them with dried flowers, leaves, and/or fresh flowers. Keep them in a line in a tray and add some tea-lights. However, keep in mind that using odorless candles may be the best option because otherwise, the candle scents may overpower your food. Buy a large pumpkin or several small pumpkins and arrange fall-leaves around the pumpkin's base.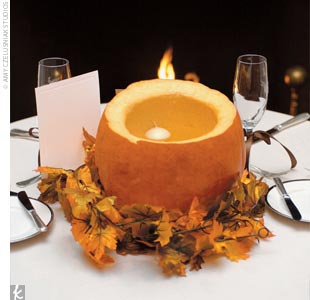 Candles: Different sizes of candles are common on Thanksgiving tables. A pillar candle inserted into a pumpkin is a simple idea that will create a different look altogether. Use berries, pinecones and mosses around the hole and form a unique, attractive decorative ring.
Image Credit: hubpages; diy-guides
Four Fresh Ideas For Thanksgiving Centerpieces