10 Recipes For Hannukah This Year
6 Nov 2010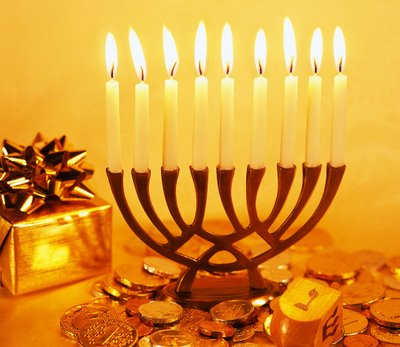 Hannukah, the festival of lights is around the corner.  I have enjoyed this festival with my Jewish friends who are spread across the city.  I have always had a soft corner for Hanukkah foods because they are delectable and royal.  Some of my health conscious friends are wary in trying out these hannukah dishes fearing that they are not "yummy to tummy" since they are drenched in sin (oils). But I feel it's sensible to take a break from dieting during this festive season, because you will find some of these foods are simply irresistible. In my opinion the top 10 recipes for celebrating Hannukah this year should be:
Chanukkah morning Challah French Toast
This is the best way to flag off celebrations that are going to last for some days. I thought my blog about Hannukah recipe ideas will be incomplete without mentioning about this wonderful breakfast recipe.  The thickly sliced challah bread, and real creameary butter is all you need to make this crunchy French toast, which is very much soft inside.

 

Hannukah Doughnuts sufganiot
Sufganiots' are deep- fried jelly doughnuts that are generally eaten during the Hannukah.  There are many tales associated with the oil used for preparing sufganiot.  I have heard a Rabbi saying that the oil used for preparing doughnuts are redolent to the oil that burned miraculously at an ancient temple in Jerusalem. You need yeast, sugar, water, flour, margarine, salt, egg yolks, jelly, canola oil and powdered sugar to make sufganiot.

 

Hanukkah Latkas - Potato Pancakes
Generally fried foods are savored during Hannukkah as a tribute to the oil that miraculously burned for eight days at an ancient Jerusalem temple for eight days, and Macabees took eight day to sanitize and rededicate the whole temple. Fried potato pancakes also known as 'Latkes' in Yiddish and 'Levivot' in Hebrew can be served during other occasions too.  You need potatoes, onions, eggs, pepper, salt and oil for preparing these latkas. These latkas taste good when served with apple sauce.

 

Hannukah Brisket
I have a strong inclination towards this brisket.  I never knew that brisket can taste so good. In this festive season you can try out making these fragrant, flavorful, fork-tender and festive briskets by cooking them in sweet sauce. Always try to cut the brisket properly because if not thinly sliced they will become tough. You will need brisket, oil, coco-cola, dry red wine, honey, ketchup and onions to prepare this brisket. This slow cooked brisket is generally served during the Sabbath dinner.

 

Cauliflower latkes
I think cauliflower latkes are healthier than the traditional potato pancakes. They are perfect to be eaten during Hannukah season and otherwise too. In my opinion cauliflower latkes are easier to prepare than the traditional potato latkes and tastier too. You will need cauliflower eggs, wheat flour, salt, white pepper, and oil for preparing these latkes.  If you wish you can combine cauliflower with broccolis and double all other ingredients.

 

Pear and Apple Fritters
If you are yearning to taste traditional hannukah sweets that are richer than sufganiot then you can resort to this pear and apple fritters. They are richer than sufganiot and chocked with fresh fruit chunks.  You need peeled apples, and pears, egg, vegetable oil, sugar, cinnamon, sour cream, self raising flour and vanilla ice cream to make these fritters. I bet they will melt in your mouth. And leave you aching for more.

 

Easy Noodle Kugel
This noodle pudding is served with baked salmon and Israeli salad. The great thing is that you can prepare these sweet kugel a day in advance and just bake them at the time of meal. You need egg noodles, cream cheese, butter vanilla, sugar, eggs, milk, frosted flaked cereals, and cinnamon to prepare these noodles.  I bet they will disappear from the plate in no time. 

 

Duck Breast with Honey Sauce
This is an easy and chic dish that integrates the juiciness of duck breast and sumptuous honey glaze.  You need crushed pineapple syrup, honey, dry sherry, chicken broth, soy sauce, Worcestershire sauce, orange juice, cider vinegar, and duck breast to prepare this recipe. You can also infuse some herbs like parsley to make it more delicious.

 

Candy Dreidels
Perhaps you can involve your kids while preparing these dreidels, because they would love to help you out. You need marshmallow, toothpick, Hershey kiss and licorice string to prepare these kid friendly dreidels.

 

Holiday Sesame Chicken

This sesame chicken recipe perfectly embodies the spirit of holiday.  You need all-purpose flour, cornstarch, baking powder, soda, low sodium soy sauce, dry sherry, vegetable oil, water, sesame oil, skinless and boneless chicken meat, white sugar, chicken broth, white vinegar, dark soy sauce, chile paste, and olive oil to prepare this batter dipped chicken.  The chicken tastes good only when fried in olive oil. 
Image courtesy: counterlightsrantsandblather1.blogspot.com
10 Recipes For Hannukah This Year