How to Make Anti-Vampire Garlic Bites for Halloween
29 Oct 2010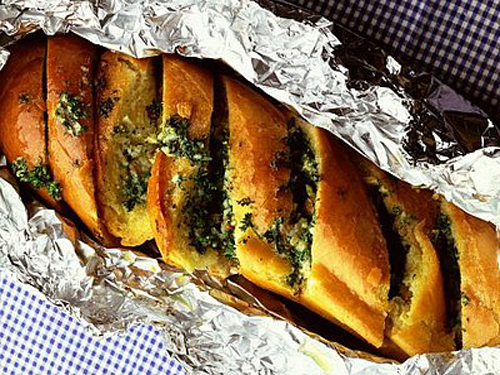 Anti-vampire garlic bites are loved by those who like the pungent smell of garlic. Even the most persistent vampire can be scared away with these snacks. These flaky as well as delicious little tidbits are best served during a spaghetti dinner or on Halloween night. Here are the details of making some delicious anti-vampire garlic bites.
Ingredients
Half a packet of 16 ounce frozen phyllo dough that has been thawed to room temperature.
3/4 cups of melted butter
3 heads of garlic, separated into cloves.
1/2 cup of chopped almonds
1 cup breadcrumbs
Getting Ready
Preheat the oven to 350 degrees F.
Making
Unroll the phyllo dough on a sheet of waxed paper.

 
Cut the phyllo dough across into 2-inch strips using a very sharp knife.

 
Cover the phyllo strips with a piece of waxed paper and then wrap them using a damp kitchen towel in order to keep them moist while you are working.

 
Place one strip of phyllo dough at a time, each on a separate piece of waxed paper and then brush each strip with melted butter.

 
Spread little finely chopped almonds on top of a phyllo strip and place a garlic clove at one end of it. Roll up each dough strip in a way that you end up sealing the edges as you go.

 
Use extra butter to brush the flaky anti-vampire bite and roll it in breadcrumbs.

 
Repeat the same process with the rest of the phyllo strips.

 
Now, put all the anti-vampie bites over a rack and place the rack inside a roasting pan. Bake the bites for 20 minutes or until they turn golden brown.
Serving 
Serve them hot for the Halloween party. 
You can scare them even more with these gator shaped garlic bites. Do learn how to get it right.
Happy Vampire Hunting!
Other Articles You May Like To Read
 How About Some Graveyard Brownies This Halloween
 Twilight Cookbook Inspires Another Vampire Series Cookbook
Image credits : ifood 
How To Make Anti-Vampire Garlic Bites For Halloween