Top 10 Sugar-Free Sweets For This Diwali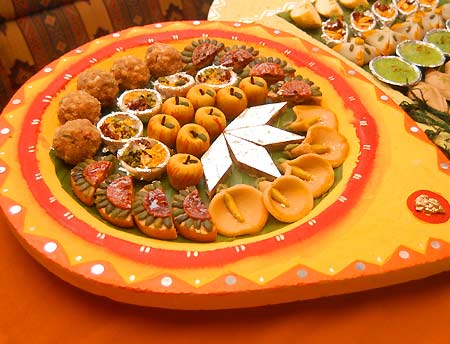 Festivals are the time to savor sweets and cherish sweeter memories. Amongst us, there may be people who are lucky enough with sweeter memories, but not lucky with sweets. So, for all those, here is some good news. You can savor the sweets this Diwali season without the worries of shooting up your blood sugar levels or adding extra pounds to your hips. How?! By using sugar free sweeteners. Here are top 10 sugar free sweets that you can try making and savoring this Diwali.
Badam Phirni:  Phirni is a traditional 'kheer 'or pudding prepared from milk, sugar and rice. You can flavorize Phirni as per your taste. Some of the most popular flavors are Mango Phirni, Badam Phirni, Saffron Phirni, and Rose Phirni. For preparing sugar free Badam Phirni you will need milk, rice flour, sugar free, cashew nuts (blanched and grounded to paste), saffron and raisins to prepare this tasty Phirni. Boil milk, rice flour and cashew nut paste together till the mixture thickens. Add sugar free sweetener and stir slowly. Slowly add saffron to the boiling milk mixture. Pour the Phirni into earthen pots and garnish it with cherries or tuttifrutties. Now, the Badam Phirni is ready to be served.
Malai Peda: Peda is generally prepared in thick semi soft pieces. It is usually prepared using khoa, sugar, saffrons etc. Various types of pedas are famous throughout the Indian subcontinent. Malai Peda is one popular variety of peda. To prepare the sugar free malai peda you will require: 1 ltr low fat milk, 1/4 tsp citric acid (nimbu ka phool), 2 tsp levelled- cornflour,4 sachets sugar substitute, 1/2 tsp cardamom (elaichi) powder, few saffron strands and pistachios (for garnishing). Boil the milk in kadai and continue stirring it, till it reduces to half. Dissolve saffron in warm milk and add the mixture to the boiling milk. Add sugar substitute and cook for 5 minutes. Mix citric acid in water and slowly add it to the boiling milk, till the mixture curdles slightly. Mix cornflour in the milk and add it to the boiling milk. Continue sitrring it till it resembles khoya. Add cardamom powder and mix well. Allow it to cook. Shape the mixture into balls. And place it into paper cups and decorate it with slivered pistachios.
Gajar ka Halwa : Halwa is a rich dessert served across the Indian subcontinent. There are generally two types of halwa, one is flour based and the other is nut and butter based. Halva can also be prepared using numerous other ingredients like carrots, yams, pumpkins and squashes. Gajar ka Halwa or Carrot based halwa, is a famous traditional dessert which is served during all special occasions. To prepare a sugar free gajar ka halwa you will need 8-10 medium sized carrots, skimmed milk, pure ghee, pistachios, cardamom powder, sultanas, sugar free (18 measures) and khoya. Heat ghee in a kadai. Add grated carrots and sauté for 5 minutes. Then, add skimmed milk and cook for some time. Add green cardamom powder, sultanas and sugar free sweetener. Cook for about 15 minutes. Add khoyas and cook till the mixture is dry. Garnish with pistachios and serve hot or cold.
Pineapple Kesari: Kesari or halva is a sweet dish prepared using semolina, and sugar. You can flavor kesari, as per your taste. The most popular flavors of kesari are saffron, and pineapple kesari. To prepare sugar free pineapple kesari, you will need rawa (1 cup), crushed pineapple (1 cup), splenda (1.5 cups), ghee, kesar, kismis, cardamom powder and cashews. Add ghee in a kadai, and fry rawa in medium flame, till it emanates sweet aroma. Once the rava turns golden brown in color, add crushed pineapple and Splenda artificial sweetener to the pan. Immediately add saffron (mixed with water) and stir it continuously. Add cardamom powder, kismish, and cashew nut and mix well. Cook for another 5-10 minutes and your pineapple kesari is done.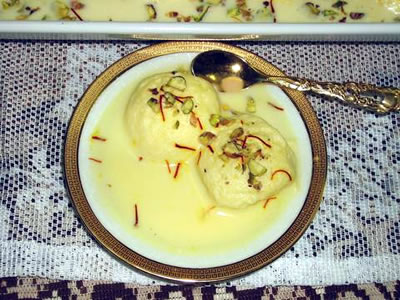 Rasamalai: Rasamalai is a popular milk dessert, prepared from Paneer (Indian Cottage cheese) and  is equally favored and savored throughout India. Rasamalai is prepared in 3 steps- Chenna preparation, sugar syrup preparation, and malai preparation. For preparing chenna, you will need 6 cups fat free milk, 2 tbsp vinegar while for preparing the sugar syrup you will need 2 cups water, and 2 cups of sugar free. And, for preparing the sauce you will need 3 cups fat free milk, 1/4th cup sugar free, 1/4th tsp saffron and cardamom powder. Boil 6 cups of milk in kadai, and once done, remove from flame and add vinegar. Keep stirring, till the milk curdles. Drain the water and wash the chenna under running water, till the smell of vinegar is gone. Mix all-purpose flour with chenna and make small balls. In the mean time, boil water and sugar free and add chenna balls to this syrup. Cook the balls for 10 to 15 minutes and see the balls doubling in size. For preparing the sauce, boil milk in the pan and allow it to boil till it reduces to half of its quantity. Add crushed saffron and cardamom powder and boil it for few more minutes. Add sugar and add chenna balls, switch off the gas and allow the rasamalai to cool. Refrigerate it and serve chilled.
Pista Badam Katli: Katli is a popular Indian sweet similar to Burfi. Various types of katlis are prepared using dry fruits. Most popular ones are Kaju katli and Pista Badam katli. To prepare Pista Badam Katli, you need: 1/2 cup almonds (blanched, peeled and powdered), 1 tsp pistachio slivers, 1/4 tsp cardamom (elaichi) powder, 2 tbsp honey, a few saffron (kesar) strands and 1tsp ghee. For garnishing, you will need 1-2 tsp pistachio slivers. Mix all ingredients in a bowl (except ghee) and knead the mixture into a dough. Now, roll the dough between two sheets of plastic, sized 100 mm X 100mm each.Garnish with pistachios and press the rolling pin over it, so that the pistachios firmly stick to the dough. Cut the dough into 16 squares of 25 mm. Try to use natural honey in place of the packaged brands.
Rice Kheer: Kheer is a traditional south Indian Sweet dish prepared using milk, rice and sugar, and is flavored with pistachios, almonds, and cardamoms. This kheer is also prepared using vermicelli or rice. For preparing sugar free rice kheer you will need: 1 cup cooked rice, 2 cups milk, 1/3rd cup condensed milk, 4-6 sachets of artificial sugar, ½ teaspoon elaichi powder, and 1 tsp ghee.  Mix rice, condensed milk and regular milk in a pan and stir for 10 minutes. Add sugar free sweetener, ghee and cardamom powder; cook it till the ingredients are properly mixed. Overcook the rice to get the creamy texture. Serve hot or chilled as per the taste preferences.
Kaju Roll:  Kaju Roll or Cashew Roll is a dessert prepared using kaju and is served during all the special occasions. For preparing sugar free kaju roll you will require 250 gm cashews, 1 ½ cup skimmed milk, 25 sugar free, silvered leaves, and powdered mix of dry fruits with raisin. Blend cashew and milk in a mixer, till it forms a fine paste. Cook this mixture in a non stick pan. Stir the mixture till it starts leaving the sides of the pan. Add sugar substitute and continue stirring it till the sugar dissolves. Transfer the mix into a butter paper. Before the mixture cools, roll it with greased roll pin. Spread dry fruits over cashew dough. Roll the mixture in butter paper to make a cylindrical shape. Chill the rolls in refrigerator for about an hour. Garnish with silver paper leaves and serve.
Beetroot halwa: Beetroot halwa is also called beet halva and is prepared with milk and beetroot. For preparing sugar free beetroot halwa, you will need: 2 tbs sunflower oil, 1 kg grated beetroot, 3 crushed cardamoms, 30 gm sugar substitute, 600 ml skimmed milk and 50 gm skimmed milk paneer, silver leaves and 4 almonds to garnish. To prepare this halwa: Heat oil in a kadai, add cardamoms and grated beetroot. Add milk till the mixture thickens. Add mashed paneer and stir it for about 5 minutes and add sugar free and stir it. Transfer the halwa into a bowl and garnish it with silver leaves, and almonds.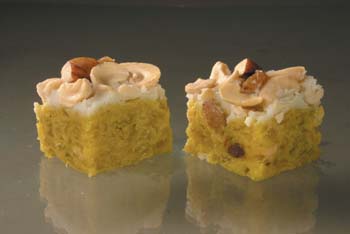 Dry fruit halwa: Dry fruit halwa is a traditional halwa recipe, which is rich in nutrients and is prepared using different types of nuts, ghee, and sugar. For preparing sugar free dry fruit halwa you will need:1 cup chopped mix of dry fruits, 3 tbsp quick cooking oats, 50 gm gelatine, 600 ml water, 30 gm sugar substitute, and 10 ml almond essence. Soak gelatine in water. Add ghee and roast the oats and dry fruits. In a kadai, add water and bring it to boil. Add gelatine, simmer it for another 5 minutes and continue stirring the mixture. Add sugar substitute and almond mixture. Remove the mixture from heat and spread it on a greased tray. Refrigerate till it sets. Cut into cubes and serve. 
Image courtesy: video.ilovekolkata.in ,  ifood.tv , mangalorean.com , kandoisweets.com
Top 10 Sugar-Free Sweets For This Diwali