Top 5 Traditional Diwali Recipes

24 Oct 2010
Diwali is the time to refresh and rejoice with family and friends over the serenity of lights, aroma of incensed sticks, colored rangolis, crackers and above all savories and sweets. Although sweets and savories prepared and served during Diwali are also prepared during other festive seasons, their tastes and warmth, compels us to try out the same recipes during Diwali every year. Why not experiment with special foods this Diwali? Here are the top 5 traditional Diwali Recipes which you can try out making this year:
Cabbage and Carrot Bhujia
This is a tasty and nutritious Diwali dish, which is prepared using cabbage, and carrots. To prepare this bhujia you will need, 4 tablespoons oil, whole black mustard seeds- 1tbsp, dried red chili- 1, 1 cabbage-finely sliced, 350 grams carrots- coarsely grated, 1 green chili-cut into thin strips and seeds removed, 1/2-teaspoon sugar, fresh coriander - chopped (4 tbsps), fresh lemon juice -  1tablespoon. 
Heat oil in frying pan, sauté mustard seeds and chillies for a minute. Add cabbage, green chilies, and carrot. Lower the heat and stir fry the vegetables for another minute. Add sugar and coriander and stir fry the vegetables for some time till the vegetables turn soft. Add lemon juice and serve this bhujia hot. Don't forget to remove the red chilli before serving.
Ghatia
Ghatia is a crunchy Diwali snack which is prepared by frying strips of wheat dough in a oil. To prepare Ghatia you will need: 1/2 kg Wheat Flour, ½ tsp Ajwain, 1 ½ cups Water, Oil for frying as required and Salt.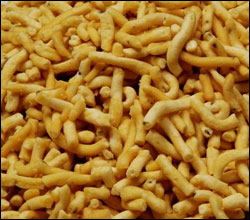 Sieve wheat flour and add oil, salt, Ajwain and mix well. Make hole in the center and knead the dough using water. Roll the dough into large chapathi (flat Indian bread prepared using wheat) and cut into long strips. Heat the oil in a kadai, till it attains the smoking point. Add the wheat strips one by one and fry them till they turn golden brown in color. Always be careful to remove these ghathias from oil at the right time otherwise they will turn dark and spoil the taste. Remove the ghatias from oil and strain the excess oil using tissue paper, cool it and store it in airtight containers.
Mattar Karanjis
Mattar karanji is a popular Maharastrian snack recipe, which is popularly served during special occasions like Diwali. Karanji is the Indian equivalent of empanada: a sort of stuffed bread or pastry and a regular snack in most Spanish and Portuguese homes. For preparing Mattar Karanji cover you need: 1 cup wheat flour (or all purpose flour), 1 ½ tsp semolina, 3tbsp vegetable oil, and salt. For stuffing you need:  1 ½ cup green peas, 3 green chillies and 2 medium potatoes. For tempering you need : 3 tbsp oil, ½ tsp cumin seeds, pinch of asafoetida, ½ tsp turmeric powder, 3-4 curry leaves, 2 garlic flakes, ½ tsp black pepper powder and salt.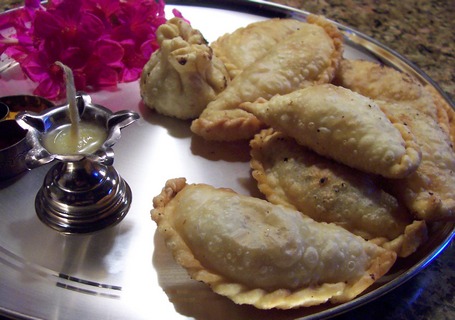 Mix semolina and all purpose flour, and knead it by pouring in hot oil. Add salt and water, till the dough gets tough. Heat oil in the kadai, add cumins, asafoetida, ½ tsp turmeric powder, curry leaves, garlic and chillies. Saute it for few minutes till they emanate aroma, and add cubed potatoes (peel and cube potatoes). Add salt to taste. Cover and cook the vegetables till they are tender. Once the vegetables are done, add pepper powder, and mash the masher. Divide dough into rolls, roll into puri, place the stuffing in puri, and press the dough. Shape the karanjis using karanji shaper, and deep fry the karanjis in oil. Once done, remove the excess oil using tissue paper and serve it hot with tamarind chutney.
Thekua
Thekua is a popular dry sweet, which is served during all special occasions in North India. For preparing Thekua you need, coconut grated, water, green cardamom, wheat flour, chasni and ghee. Jaggery is also used in the preparation of Thekua.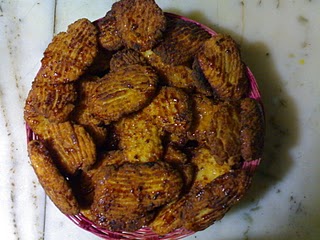 Make sugar syrup using water, green cardamom, and jaggery/sugar. Add atleast 4 tsps of the above solution to ghee, and coconut. Add this coconut mixture into wheat flour and form dough and divide them into balls. Take these balls in hands, press it flat on your palm, and shape it in the mould. Deep fry the shaped dough in ghee till they turn golden brown.
Bedmi Puri
Bedmi puri is a very popular snack in North India, which is served during all special occasions. 
To prepare bedmi puri you need Maida, Moong Dal, Red chilli powder, Ground coriander, Garam masala, Oil and Salt to taste. Mix moong dal, ground coriander, garam masala, red chili powder, and grind it. Make paste out of this grinded mixture and add it to Maida along with oil. Add water and make dough out of it. Make small balls out of the dough and roll out it to make puris. Deep fry it till they blow up. Now the Bedmi Puri is ready. You can serve it with chutney. 
Image courtesy:  4.bp.blogspot.com   bp2.blogger.com  ;  madteaparty.files.wordpress.com  
Top 5 Traditional Diwali Recipes