How To Plan A Diwali Party?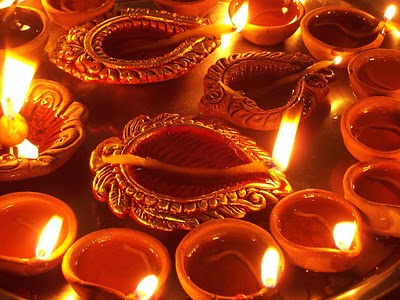 Here are a few tips on how to plan a Diwali Party. Make the festival of lights a grand celebration with these tips.
Decoration
Decorate your house with beautiful chandelier, diyas, candles, light the house with small bulbs. Keep your favorite flowers in water. Make rangolis, ancient cultural tradition and folk art, on the front side of your house. This will give an auspicious and creative look to your Diwali party.
Foods and Drinks
Plan what food you want to serve in advance to have a trouble free Diwali party. Keep pakodas, chakris, salted cashew nuts etc for snacks and gujhias, shakkarpare, jalebi for sweets. You can also give dahi vadas as starter. No party can start without chips, popcorns and cold drinks. Decide your main menu depending upon the type of eaters. You can mix vegetarian like mixed veg, aloo dum, paneer gravies and non-vegetarian recipes like mutton korma, kebabs, chicken curry etc to make your party a huge hit. For alcoholic drinkers, serve wine or other cocktails with spicy starters. Fresh juices, smoothies, shakes etc are other good options.
Firecrackers
Both kids and grown-ups equally like playing crackers. Some of the varieties of firecrackers are the popular ground wheel or charkha, high-flying rockets, favorite sparklers, electric crackers, mild flower pots, fuljhadis and last but not the least explosive and ear deafening bombs. Check for the latest entries of firecrackers in the market and store it for your Diwali party.
Games
Organize games to play at your Diwali party and give the winner a prize. Think of games, which involve all your invitees at the party, like 'Truth or dare', 'Would you rather' and drinking games like Have you ever? etc. If you have open space outside your house, plan a contest of Diwali diya lighting contest or firecracker competition. You can also plan something like eating number of sweets in least time or drinking glasses of alcohol or fruit juices in least time. If you have lots of kids in the party, fancy dress competition is a splendid idea. Ask your guests to come in traditional yet contemporary clothes and give award to the one who is dressed in the most innovative manner.
Use your creativity and these tips to plan a Diwali party.
Image Credit: hindugodphoto.blogspot.com 
How To Plan A Diwali Party?