How To Make A Diwali Gift Hamper?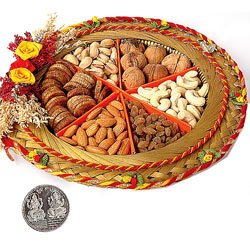 It is a very simple task to make a Diwali gift hamper on your own. Here are a few tips on How To Make A Diwali Gift Hamper.
Planning
In the first step, decide whom do you want to give your Diwali hamper to. If it is a friend or relative give things that you know your recipient will love to have. If it is a gift for business purpose, give something you are very proud of like creative home-made chocolates, candles or diyas. The perfect Diwali Gift Hamper should have everything from decoration to food.
Diya, candle, crackers: Pick a big gift basket and start filling it with Diwali treats. Keep decorated oil lamps and fragmented candles in the basket. If your recipient likes to blow crackers, include a bunch of firecrackers in it.
Chocolates, sweets, cookies: Diwali is the perfect time to gift chocolate, sweets, cookies, cakes and biscuits. Depending on your recipient's choice, pick any of these and keep in your gift hamper.
Juices, wines, cold drinks, jams, sherbats: For non-alcoholic drinkers, pick a bottle of wine in the gift hamper. Juice tetra-packs, cold drinks, sherbats and jams are other cold beverages that you can keep in your gift hamper.
Dry-fruits raw or roasted: Make packets of raw or roasted dry-fruits like cashew, almond, pista etc and keep them in the gift hamper.
Silver gift items: Silver coins with pictures of Laskhmi and Ganesh idols on it, small silver idols of these god and goddess can also be kept in the gift hamper. Presenting jewelry to some one close is another good option.
Electronic items: You can also keep small but useful electronic devices like ipod, handycam, cameras, etc in the gift hamper and leave a personal note on the whole basket. Decorate it with colorful ribbons and present it.
Make a Diwali gift hamper at home and make your near and dear ones happy.
Image Credit: diwali-dipavali.blogspot.com
How To Make A Diwali Gift Hamper?