New Age Sweets For Diwali – Going Beyond Tradition
23 Oct 2010
Diwali, like any other Indian festive occasion, is incomplete without sweets. However, when the same sweets are commonly served in every house, how do you make a difference?  Simple, try some new age sweets for this Diwali. So, here are the top five must-know new diwali sweet ideas...
Must Know New Diwali Sweets
Chilly Ice-Cream

The name itself draws your guests' immediate attention and curiosity. The dish is easy to make and just requires addition of green chilies to the standard recipe of making ice creams.  This unique new diwali sweet with the unique name is sure to raise eyebrows, but the sweet, pleasing taste is sure to bring smile on their faces.
Apple Rabdi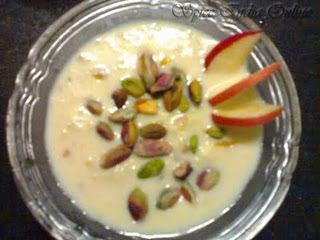 While Rabdi is a traditional Indian dessert, Apple Rabdi is definitely something new. Grated apples is the only new ingredient in this new Diwali sweet. Apple rabdi tastes best when served chilled.  
Chocolate Burfi

Instead of serving the traditional Kaju Burfi, this diwali, serve something different - something
that brings the flavors of the east and the west together. And what can be more apt for this than a plate of Chocolate Burfi? The age-old concept of "burfi" that have typified diwali for almost eternity is now merged with the more European taste of chocolate – a combination that is absolutely going to steal hearts of both the young and the aged.
Multi-colored Lassi


The moment we think of Diwali, we think of fire-crackers and colors. So, why not reproduce the same effect on your table as well? A multi-colored lassi is a great way of doing so. Color yogurt with  strawberry puree,  pureed kiwi, saffron etc. Now layer the variously colored yogurt portions.
Dry Fruits

With diabetes and obesity being two of the significant concerns of urban mortals, people have
become quite diet and calorie conscious. Therefore, for such guests, serving sweetened dried fruits is a great idea. Dried raisins, walnuts, almonds, dates, apricots – the options are numerous and an assorted platter of this surely makes your diabetic guests feel happy and welcomed.

 

Thus, with new age sweets for Diwali, go beyind tradition without ignoring your ethnicity. These top five new diwali sweet ideas, will surprise your friends and family and make this year's festival a memorable one.
HAPPY DIWALI!
Image credit:  weeklydish.com ;  shalinivenkatesh.com/ ; luv2eathate2cook.wordpress.com/ ;  ;
madteaparty.wordpress.com/ ; shefskitchen.wordpress.com/ 
New Age Sweets For Diwali – Going Beyond Tradition