Top 10 Diwali Snacks To Make At Home

22 Oct 2010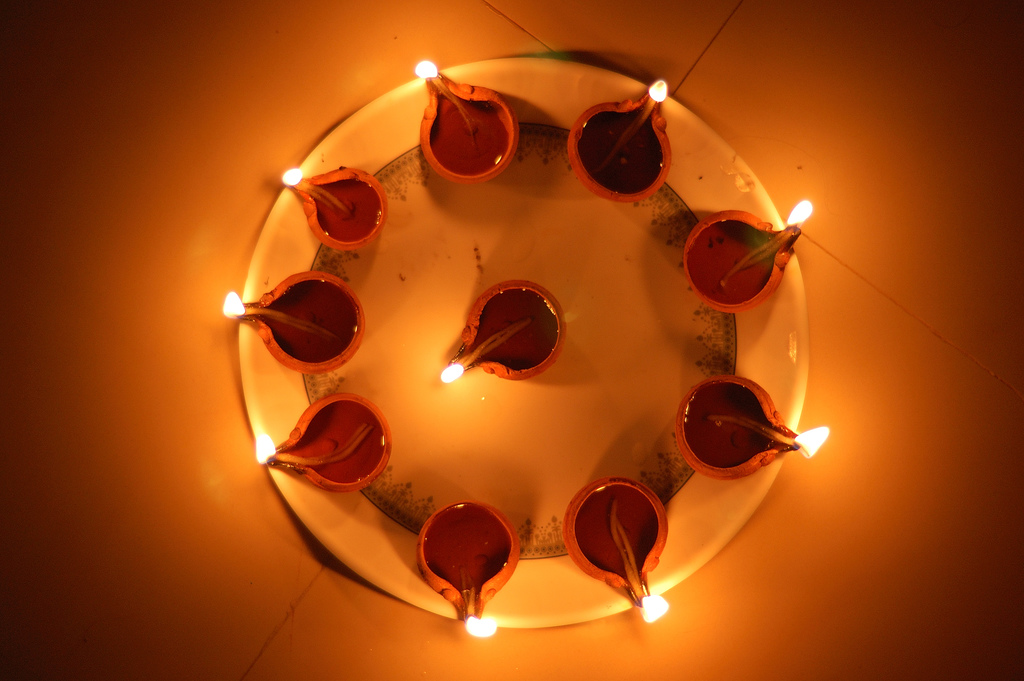 Diwali, the festival of lights is all about great food and celebrations. While sweets steal the show, homemade Diwali snacks add spice to the biggest festival of India. As I love to give a personal touch to every special occasion; I am gearing up for these top 10 Diwali snacks to make at home.
1. Bhakarwadi
A crunchy, spicy, sweet and zesty snack tastes great with tea. They are easy to make and preserve. Bhakarwadi can be prepared well in advance for the Diwali celebrations. So you have more time to enjoy and yet have some ready homemade Diwali snacks.
2. Chiwda
Chiwda is made out of beaten pressed rice called Poha in India. Use the thinnest version that can be dry roasted, thicker poha needs deep frying. Chiwda is a mixture of many ingredients. All ingredients needs deep frying except the poha. Loaded with ground nuts, green chilli, roasted chickpeas, cashew, almond and sev, it is a great combination of many snacks. Its crunchy, colorful and very attractive.
3. Chakli
Chakli is my all time favorite homemade Diwali snack. They are hot and spicy, extremely crispy and have an attractive shape. One can have it anytime of the day, but ideally they taste good with a cup of hot tea.
4. Kachori
This is one snack, I cannot really resist. It has a round disc like shape filled with spicy filling made out of moong daal. Kachori is always accompanied with sweet tamarind sauce, yogurt and mint chutney. Topping it with raw chopped onions enhance the taste manifolds. Kachori can be prepared a day or two in advance, while the sauce and chutney needs a fresh preparation.
5. Mathri
Mathri is a rajasthani recipe for Diwali sanck. It is less spicy and has flavors of kala jeera, an Indian spice. The flavor of jeera is what makes this homemade Diwali snack mouthwatering.
6. Chole Bhature
Chole Bhature is a heavy to eat dish and thus more filling. Chole Bhature is an ideal snack for serving guests on the occasion of Diwali. Chole is a spicy curry served with Bhatura, a hot blowup puri. It can be made as spicy as required. Chole can be prepared a couple of hours before serving while Bhatura tastes best when hot.
7. Daal Pakoda
Daal Pakoda is made out of a coarsely blended chickpeas. They are hot and spicy. Freshly made pakoda's with tea or coffee is a great combination. They can also be served with green coriander chutney.
8. Dahi Vada
Dahi wada is made of white daal, soaked, made into a paste and deep fried in the shape of balls, then soaked in freshly made curd. It is sour to taste but made sweet with sweet tamarind sauce and spicy by sprinkling salt and dahi wada masala while serving. Though it is a snack, one can have it during breakfast, lunch or dinner.
9. Nimki
Nimki is made out of white flour, and flavored with kala jeera. They are crunchy and salty.
10. Papdi Chaat
Papdi chaat can be made from most of the above homemade Diwali snacks, no special preparation is required. Use nimki, boiled potatoes, use curd that is made for dahi vada, add the sweet tamarind sauce and coriander chutney, mix all components in required proportions and you have a tasty dish ready.
Homemade Diwali snack are easy to prepare and one has the liberty to store them in advance, enjoy eating and sharing them with friends and family.
 Picture Courtesy: religionfacts.com
Top 10 Diwali Snacks To Make At Home