Halloween Treats For Kids With Braces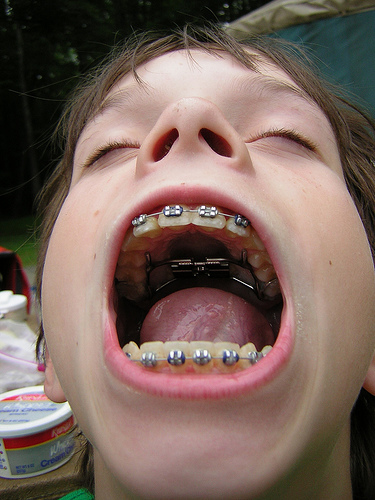 Halloween is not too far away and my kids are extremely excited about all the Halloween treats they will get to collect and eat. But, I am worried for my son as he has braces and I want to ensure that both he and I know, which Halloween treats are brace safe. So, with a little help from the dentist and a little research has helped me pen this short list of Halloween treats for kids with braces. Not all Halloween treats are suitable for kids who have braces. In fact, some of the Halloween treats, like chewy candies can damage your kid's braces and even prolong the treatment. Here is what you should keep in mind while treating your kids on Halloween.
Brace-safe Halloween Treats For Kids
Fruits
Don't let your kids bob for apples, but give him or her apple slices that are dipped in chocolate sauce or serve the fruits with a yogurt dip or any other dip that is served with fruits. You can even use the fruit to make parfaits or even a fruit pie.
Cookies, Brownies and Cakes
You can serve all the above mentioned treats as long as they are plain and don't have any nuts. Nuts are one of the foods that children with braces should avoid. When you give cookies, encourage your kids to break them up and then eat, instead of biting into the cookies. Green Goo Slimedoo, Spider Bites, Pumpkin Cake, and Cupcake Sandwiches are just a few of the Halloween treats your kids can enjoy!
Candies
You have to be extremely careful when it comes to giving candies to your kids as certain types can really mess up the braces. Candy pieces, chopped- peanut butter cups, melt-in-your-mouth candies and chocolate bars are all a few types of candies you can entertain as there is lesser chance of these getting stuck in the braces or damaging the protective wear. You should avoid hard and chewy candies, caramel candies, nut candies, licorice, taffy, and jellybeans.
Food To Avoid
 Hard Pretzels
 Popcorn
 Taco and Tortilla Chips
 Bubble Gum
Ice
Tips and Warnings
Get creative in the kitchen while keeping in mind the information given here. I am sure you will make some innovative treats like cupcake sandwiches topped with chocolate buttons.
Ensure that your kids clean and floss your teeth well after having their Halloween treats.
Explain to your kids why it is important to resist certain Halloween treats and why. Also, serve them alternate appetizing brace-friendly treats. That should do the trick. Happy Halloween!
Image Credit: flickr.com/photos/valentinap/
Halloween Treats For Kids With Braces