How to Throw a Halloween Party for Adults
19 Oct 2010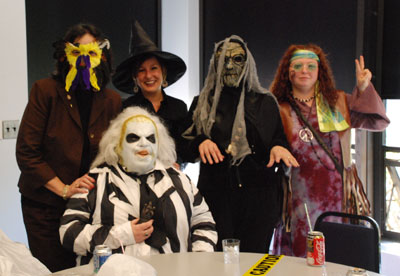 Shed off the old belief that Halloween is just for kids and discover how to throw a Halloween party for adults! You are never too old when it comes to having fun and so, let me tell you how to throw a Halloween party for adults and make it "spook-tacular" and memorable! Halloween is not just for the kids and teens anymore. Just get together with your friends and celebrate an "all-adults" Halloween party like the way you have never done before. Dress up in your scariest best and serve the spookiest drinks and foods. Celebrate a terrific Halloween party with all your adult friends and here's how you can do it –
Things you need
Here are some exciting things you need to collect for throwing a Halloween party for adults – spider webbing, tarot cards, Halloween makeup, Halloween themed decorations and invitation cards, scary light sets, Jack-o'-lanterns, spooky foods, ghost masks, scary background music and Ouija boards.
Steps on how to throw a Halloween party for adults
Set the phantasmal theme
Before throwing a Halloween party for adults, decide your Halloween theme. You can either go for go-as-you-like style Halloween theme, where your guests can dress up in their own scary ways. For example, your Halloween party can have guests who have dressed up as pirates, wicked witches, pumpkin ghosts, historical spirits and the likes. Or, you can select a theme beforehand like a Halloween masquerade ball, all pirates' Halloween, aliens, vampires' night or spirits from the '50s.  
The haunting invitation
To create a total Halloween effect from the very beginning of your scary party, start with the invitation card. First, make a list of all the people you wish to invite. Then, based on the theme send invitations to your guests along with the party dress code. You can either order for the invitation cards or craft them out yourself with scary ideas. 
Create an eerie environment
For that perfect Halloween party environment, deck up your surroundings with frightening dark decorations like candles, spider webs with plastic spiders, skulls, scattered dry ice, pumpkin ghosts, dim lighting in the shades of red, blue, green and purple, candles and lanterns. You can also use bloody crepe paper streamers and skeleton drawn balloons to pep up the party environment. Also, don't forget to play spine-chilling ghostly music CDs at the background. For the dinner table, get small plates, cutlery and napkins in scary Halloween colors.
Halloween entertainment
Engage your ghost guests in some exciting short games like musical chair, charade and bobbing for apples, all customized to the Halloween theme. Set that perfect Halloween mood with tarot card and Ouija board readings.
Deliciously direful treats
No party is ever complete with the yummy treats. So, fill the hungry stomach of your ghost guests with deviled eggs, mini-quiches, pretzels, cheese crackers, meatballs, dips and fries, soups and noodles. Also, quench their thirst with some exciting cocktails, soft sodas and fruit punches. Just make sure to make the food Halloween themed by giving each item matching scary names like eyeball soup, nuclear waste cocktail, mummy cookies and the likes.
Picture Source: firehow.com, spookypartyshop.co.uk 
How To Throw A Halloween Party For Adults