How to organize girl's birthday slumber parties
30 Sep 2010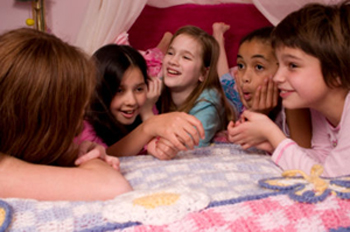 When my little sister begged me to organize another sleepover party on her 10th birthday, I decided to make it different this time. Taking cue from the previous years' girl's birthday slumber parties, I decided to avoid traditional routines like movie screening and junk food.  Still the party was a big hit amongst the girls and here's how we managed to organize a "mishap-less" sleep over party this time.
Invitations: To begin with, my sister decided to invite 5 of her best friends for the sleep over party. We thought of making the invitation cards on our own. For a change, this year we modeled our invitations in the form of a heart by sewing some old clothes and using colored marker pens, we wrote on the invitation note -"What has 12 legs, giggles and stays up all night? My party and you're invited!" My sister personally dropped the invitation cards at her friends' places and also sought their parents' permission to allow them to attend her party.
Decorations: My sister's favorite colors are pink, red and green. We decorated our house with pink, red and green colored balloons and ribbons. Also, we bought plates, table clothes and napkins of the same color.
Goody Bags: As most of the girls love collecting their goodies at the end of each game, we prepared some differently sized goody bags. Each bag had different goodies. Nail paints, bangles, rings andchocolate goodies were some of the items used for preparing goody bags.  
Music: We borrowed some good musical tracks from our cousins and burned them on separate CDs and played them during games and while chatting.
Photos: I clicked photos using my father's Nikon D60, and sent them to the nearby studio for processing. In the meanwhile, I helped them with picture frames. They made sweet picture frames using birthday stickers and girlie stickers. After the girls finished with their frames, my sister took them for a small tour of our house.
Games: After the tour, we went to our room and played several games like human knot, sack race, etc.
Food: After some games, the girls had their dinner. Homemade pizzas, veggies with dips, cup cakes and colas were served to them.
Late night activities: After the dinner, the girls continued with other games. This year, to break from the routine, I made up a game where the girls had to walk around their sleeping bags and when the music stopped they had to pick up the sleeping bag in front of them. The game continued till one girl was left in the end without a bag. That was fun and then, they went for the traditional nail polish application and face pack applying routine. Around 1 am we asked the girls to step into their sleeping bags. Later they started sharing some PJs and sang songs. Once they were bored of this, I took charge and played a girly movie to entertain them. By the time the movie screening ended, most of the girls were fast asleep. Once they were asleep, I and my sister arranged the goodie bags. We went to bed around 3 am. The girls woke up around 7 am in the morning. And after regular morning activities, they proceeded to relish the breakfast that our mother had prepared. She served us donuts and fairy breads for breakfast. After long chats and giggles, the girls decided to leave. My sister thanked them for coming and handed them their goody bags. Even a month after the party, the girls couldn't stop ravishing about the party and their goodies.
Image courtesy: sp.life123.com
How To Organize Girl's Birthday Slumber Parties