Top 10 Halloween Snacks & Halloween Appetizers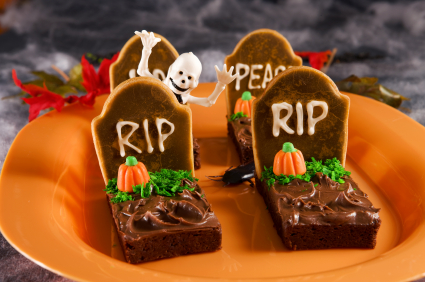 Get set to taste horror on a plate! Spook your friends and family alike with these yummy, imaginative snacks and appetizers.
You need scallions, English Muffins, Pizza sauces, red or green pepper, black olives and cheese sticks to make the Mummy that  scare kids..  
Combine sugar, butter, egg, almond extract, and vanilla extract in a bowl. Use hands, and knives to shape the cookies into fingers and later, fix the almond nails to make them ready for scratching the eyes out.. 
This purely melon (water melon) brainy creation can be easily made with little expertise. No need to bash your brains in the kitchen!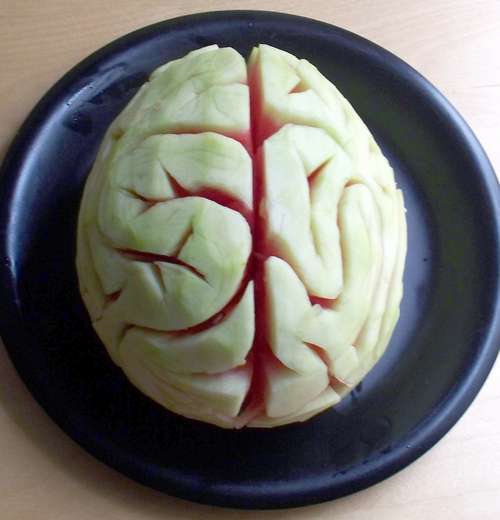 You need pretzel rods and marshmallows to make the monsters sticks. The marshmallow monsters on stick are pure fun. 
Have fun demolishing the monster on Halloween. Digesting evil is sweet indeed! BURP!
Get ready to serve these sweet and sugary, white bones on a plate on Halloween and scare friends left, right and center.
White chocolate and nutritious banana slices can make a scary combo too. Get ready to draw spooky ghost faces on the pops. Time to say Boo! 
Great savory crackers that incorporate protein and cheese. It can scare the hell out of your friends too and that's an added bonus.
 Eerie Empanadas : Alien Larvae with Blood Sauce 
These empanadas look much stranger than they taste. It can be served with Mojo sauce or cranberry sauce that is sure to spook even the bravest man.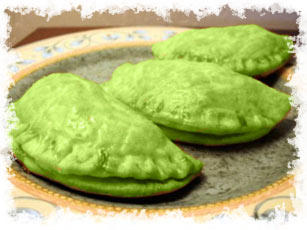 Old is gold! Get set to recreate the long dead creatures with devilled eggs and see your friends catch a breath.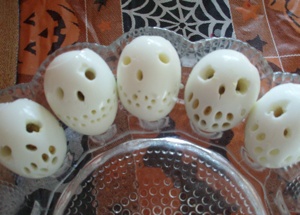 Image Credit: familyfun; kidsfunreviewed; instructables; pillsbury, childrensmercy; 
,bettycrocker; divinedinnerparty; thriftyfun, sixsistersstuff 
Top 10 Halloween Snacks & Halloween Appetizers