Top 5 Fun Halloween Food Ideas
28 Sep 2010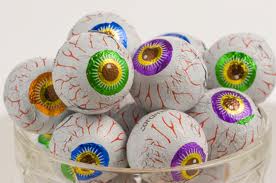 From creepy cupcakes to sinister snacks to ghoulish goodies, Halloween is indeed the time to indulge in spooky, tricky treats. And our top 5 fun Halloween food ideas just ensure that you have maximum fun bingeing on these frighteningly fun foods. Blood-red elixirs, floating body parts, wiggly worm jelly, marshmallow bones, and eyeball salads, there are no dearth of alarming yet appeasing food ideas that can bring enough sparks to your appetite. So, what are you waiting for? Get exploring these ghastly looking delights and make your Halloween feast even more fun and frightful.
Popular Halloween Food Ideas
1. Deadly Drinks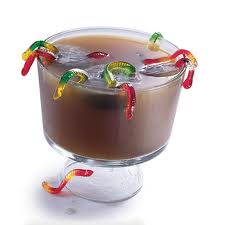 Drinks hold a special place in every party and when it is Halloween, the thrill just doubles. To feed the fiends with their energizing bloody potion, you need some deliciously creepy ideas. How about rotten apple punch, which you can easily stir up using apple cider and a few drops of red and green food colors. Just hang 4 to 5 gummy worms onto the glass brim and your spooky Halloween drink is ready! You can also try out other exciting drink options like Halloween bug juice. Just blend in a handful of ripe strawberries, lemonade, and ginger ale. Stir in some raisins and yes, do not forget to hang some gummy worms for a spooky feel. Some other great options would include swamp juice and pumpkin smoothie.
2. Halloween Cakes
How about some creep cakes this Halloween? The desserts with the dark side are sure to bring out the brightest smile on the face of the kids. From the spooky Halloween cupcakes to the one-eyed alien cream cake, there is no dearth of Halloween cake recipes. Then of course, there are these spider cakes, which are simple round chocolate sponge cakes garnished with creepy looking chocolate tentacles. The other ghoulish options are killer rat's cake and mummy cupcakes.
3. Spooky Cookies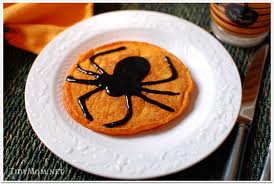 You can transform simple and sweet cookies into delicious and ghoulish Halloween treats with a little ingenuity. From the ghostly pumpkin cookies to the spooky gingerbread ones, the options are too many and too tempting. Just get creative with your cookie recipes and create the scariest Halloween cookies to lift up the spirit of your little ghosts in the party. Halloween delights like skeleton scarecrow cookies and mummy cookies are likely to be an instant hit with the little ghouls.
4. Sinister Candies
No Halloween fun party can ever be successful without the devilish candies. So, make some wonderful Halloween candies like the invisible candy, the eyeball candy, the gummy brains, and the orange pumpkin pops and surprise the little Halloweens.
5. Delish Dinner
For a hauntingly giant dinner, cook up the scariest meal. A fun Halloween dinner should comprise a yummy starter, an appetizing soup, a filling main course, and a tasty dessert. Here is a sample menu for you  — veggie goblin grin for the starter, eye ball tomato soup for the appetizer, ghoulish mini bagels, hot dog mummies and mummy meatloaf for the main course and a crazy pumpkin ice cream for the dessert.
Treat your little Halloween to these fun treats the next time they come knocking at your door asking 'tricks or treats'.
Image Credits: tidymom.net, blisstree.com,whiskusaway.blogspot.com
Top 5 Fun Halloween Food Ideas