Celebrating Tet
Ho Chi Minh City, Vietnam --- Tet Festival Celebration in Dam Sen Park
Tet fireworks - Cần Thơ, Vietnam
You will see many similarities between Tet and Chinese New Years, especially in the North of Vietnam around Hanoi.  China shares a border with Vietnam and there are many ethnic Chinese in Vietnam.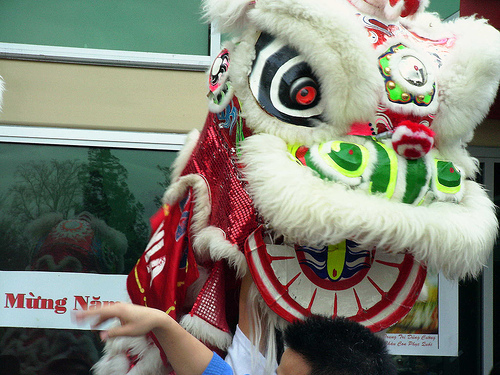 Lion Dancer Tet festivities
Tet-Saigon
Tet is a huge celebration throughout Vietnam, the annual Tet Festival celebrates the Chinese New Year and is the biggest event of the year.
Inviting new gods & saying farewell to old ones at Tet.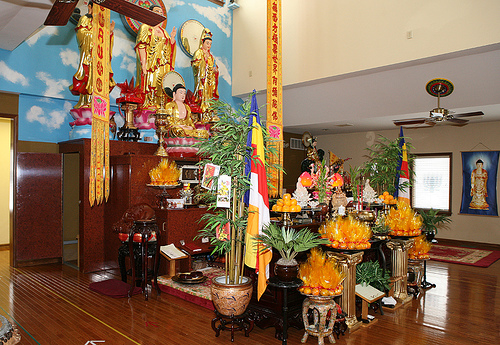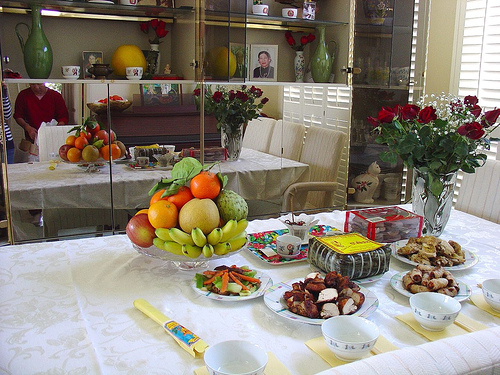 Tet money for children
Traditionally a time for friends, families and loved ones to come together, it is also a time to pay respects to deceased ancestors.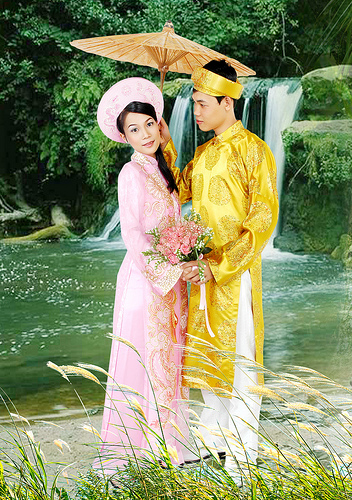 Vietnamese wedding
The yellow blossom is called "Hoa Mai" in vietnamese and is the symbol of spring, new year in VietNam New Year.
Many people celebrate the occasion with a lavish family meal before heading to one of the many public parades and fireworks displays which take place in most major towns and cities.
Spit roasted pig
Raw Fish dish
Meat and gelatin
Dried fruits for Tet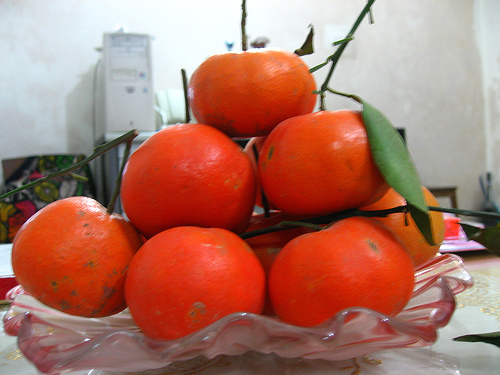 Cam for Tet
Firecrackers are also common as it is believed the loud bangs scare off evil forces from the coming year. Most shops and businesses close for at least one day over the holiday period.
A TET stable is banh chung. These intriguing square parcels are made of fatty pork and bean paste, sandwiched between two layers of glutinous nep rice. they are wrapped in green dong, a leaf resembling that of banana tree, and tied with bamboo twine, giving them the appereance that of a present.
These bright yellow flowers are common in central and southern Vietnam for the Tet (New Year's) celebration.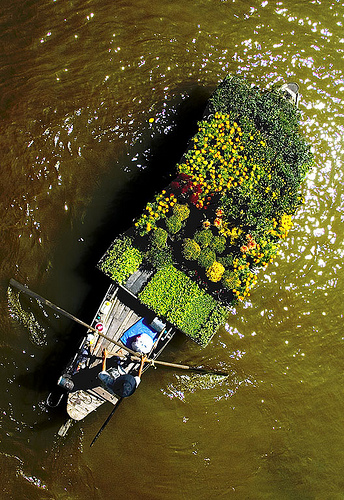 Veggies for Tet meals
Making Banh Tet (New Year cake)
Vietnamese New Year Cake - Banh Chung

Vietnamese New Year Cake - Banh Chung

2000 grams of rice
800 grams mung beans
1000 grams of pork
salt
a sprinkle of pepper
Vietnamese Onions

1. Prepare the mung beans the night before by siaking them in water. Drain the mung beans.

2. Prepare the rice by soaking it in cold water for at least 2 hours.

3.Cut pork into pieces, place in a bowl with onions, salt and pepper and mix together.

4. Boil or steam the mung beans with 1 teaspoon of salt until they are soft. Mash the mung beans up until they are like mashed potato.

5. Prepare the wrapping for the cake by placing two pieces of aluminium foil like a cross. Press this into an ice cream container to make it easier to shape.

6. Divide the rice into two portions tehn divide the mung beans into two portions.

7. Press a layer of the first portion of rice into the container. Make the second layer of mung beans. Spread the pork pieces over the beans. Then another layer of mung beans then the final layer of rice.

8. Fold the foil over the cake so that it looks like a square parcel.

9. Tip this onto another layer of foil and tie it up.

10. Place this sealed parcel into a large saucepan, cover with water and boil gently for 6 hours. Add more water every hour.

11. Carefully remove the saucepan and place in a large strainer. Submerge it in cold water for a few minutes, then gently tip it from side to side to drain off all the liquid.

12. PLace the wrapped parcel onto a wooden board and place then place another board on top of it for 2-3 days in a cool place. This will ensure that the cake is firm.

13. Remove the wrapping and serve in pieces or serve cut into slices and fry both sides until brown. Do not grease the pan if you intend to fry. The slices should form a kind of omelette by running together.

Banh Chung - sticky rice and pork wrapped tightly in leaves - are a must for welcoming in the New Year.

This is the recipe I have used for years for Vietnamese Salad Rolls-love them!Rice Paper-Wrapped Salad Rolls

From The Best of Vietnamese and Thai Cooking, by Mai Pham.

Serves 6 to 8

No single dish better represents the delicateness of Vietnamese cuisine than this one. Traditionally filled with juicy shrimp and pork, they also can be stuffed with grilled chicken, salmon, or just about anything, such as leftover turkey from Thanksgiving.

1/3 pound pork shoulder
12 medium-size raw shrimp with shells
8 (12-inch) round rice papers (keep extra on hand just in case you tear some)
1 small head red leaf lettuce, leaves separated and washed
1/4 pound rice vermicelli, cooked in boiling water 4 to 5 minutes, rinsed, and drained
1 cup bean sprouts
1/2 cup fresh mint leaves + Vietnamese herbs such as Cilantro and cilantro-like herbs: Ngo (cilantro), ngo gai (culantro), rau ram (Vietnamese coriander)
Mint, basil, and mint-like herbs: Hung (mint), hung cay (spicy mint), hung que (Thai basil), kinh gioi (Vietnamese balm)
Other Viet herbs: Tia to (red perilla), bao om (rice paddy), rau thom (sorrel)

Accompaniments:

1 cup hoisin-peanut sauce (see below) or Vietnamese dipping sauce (see below)
1/4 cup chopped roasted peanuts for garnish
2 tablespoons ground chili paste for garnish

Cook the pork in boiling salted water until just tender, about 30 minutes. Set aside to cool and then slice into 1 x 2-1/2-inch pieces. Cook the shrimp in boiling salted water until just done, about 3 minutes. Shell, devein, and cut in half lengthwise. Refresh in cold water and set aside.

Just before making the rolls, set up a salad roll "station". Fill a large mixing bowl with hot water. If necesary, keep some boiling water on hand to add to the bowl if the temperature drops below 110 degrees. Choose an open area on the counter and arrange the following items in the order used: the rice paper, the hot water, a damp cheesecloth, and a platter holding all the stuffing ingredients.

Working with only 2 rice paper sheets at a time, dip 1 sheet, edge first, in the hot water and turn it to wet completely, about 10 seconds. Lay the sheet down on the cheesecloth and stretch the sheet slightly to remove any wrinkles. Wet the other rice paper the same way and place it alongside the first.

Line the bottom third of the wet, pliable rice sheet with 3 shrimp halves, cut side up, and top with two slices of pork. Make sure the ingredients are neatly placed in a straight row. Fold a piece of lettuce into a thin rectangle about 5 inches long and place it on top. (You may need to use only half of a leaf.) Next, top with about 1 tablespoon of vermicelli, 1 tablespoon bean sprouts, and 4 to 5 mint leaves. Make sure the ingredients are not clumped together in the center, but evenly distributed from one end to the other. Using your second, third, and fourth fingers, press down on the ingredients while you use the other hand to fold over both sides of the rice paper. (Pressing down on the ingredients is particularly important because it tightens the roll.) With fingers still pressing down, use two thumbs to fold the bottom edge over the filling and roll into a cylinder about 1-1/2 inches wide by 5 inches long. Finish making all the remaining rolls.

To serve, cut the rolls into two to four equal pieces and place the cut rolls upright on an appetizer plate. Serve with hoisin-peanut sauce or Vietnamese dipping sauce on the side. Top sauce of choice with chopped peanuts and chili paste. If you like, garnish the rolls with mint or cilantro sprigs.

Hoisin-Peanut Sauce

Makes 2 Cups

Probably one of the most versatile sauces in the Lemon Grass repertoire, this sauce is served with our signature Rice Paper-wrapped Salad Rolls. When mixed with garlic, chilies, and ginger, it's spectacular on grilled fish, chicken, or beef. It's also wonderful as a marinade!

1 cup hoisin sauce
1/2 cup water
1/4 cup rice wine vinegar
1/3 cup pureed or finely minced yellow onion
1 tablespoon ground chili paste, or to taste
1 tablespoon chopped roasted peanuts for garnish

Put first four ingredients into a small saucepan and bring to a boil. Reduce heat and let simmer for 5 to 7 minutes. Add a little water if too thick. Set aside to cool. Transfer mixture to a sauce dish and garnish with chili paste and chopped peanuts.

Vietnamese Dipping Sauce

Makes 1-1/2 Cups

If you know only one thing about Vietnamese cuisine, know that nuoc cham is the single most important table sauce. Slightly sweet and sour, this fish dipping sauce is served with almost every dish.

According to my sister Denise, a self-proclaimed fish dipping sauce master, the difference between mediocrity and greatness is in the lime pulp. Every time she made nuoc cham, Denise not only would squeeze every drop of juice from the limes, but she also would scrape out every bit of pulp. Even though everyone has his or her secret method, the truth is, the proportion of ingredients is what distinguishes one recipe from another. In the northern part of Vietnam, or so Southern gossip has it, the dipping sauce is rather bland -- just a little water has been added to the fish sauce. As you come down to the Central region, a few chilies have been added. Then, as you approach the gastronomic South, the least you can expect is a lively concoction of fresh chilies, smashed garlic, sugar, lime juice, and lime pulp -- all garnished with fine slivers of carrots and thinly sliced chili peppers. This is Denise's recipe (yes, it's the Sourthern version). It will keep for 1 month if refrigerated.

2 small cloves garlic, sliced
1 teaspoon ground chili paste
1 fresh Thai bird chili, chopped (optional)
1/4 cup fish sauce
2/3 cup hot water
2 tablespoons fresh lime juice with pulp
1/4 cup sugar
2 tablespoons shredded carrots for garnish

Place garlic, chili paste, and chili in a mortar. With a pestle, pound into a paste. If you do not have a mortar and pestle, finely mince the garlic and chili.

Combine the garlic mixture with the remaining ingredients in a small mixing bowl. Stir until the sugar has dissolved. Ladle sauce into serving bowls and float the carrot slivers on top.

This is one version I make. There is another version with jicama or
green mango, egg "paint for the rice paper instead of water,
carrots, cloud ears, and sometimes egg. Another version is the Thai
mini eggrolls which use cilantro root, peppercorns, bean sprouts,
and shallots.

All are yummmmmy! And seriously addictive.

Cha Gio or Nem Ran - Spring Rolls of Meat and Vegetables

(based on info from Simon)

Makes 30 rolls
3 tablespoons Nuoc Cham
3 tablespoons water
1/4 teaspoon cayenne (I used chopped chiles)
1 tablespoon sesame oil
1 tablespoon cornstarch
*1/2 pound chicken breast, cut into thin strips, about 1 inch long
2 tablespoons peanut oil
1 tablespoon grated fresh ginger
1 small onion, finely chopped
4 garlic cloves, crushed
1 sweet small red pepper, sliced into thin strips, about 1 inch long
1 cup sliced mushrooms (I used 1/2 shitakiis and 1/2 King mushrooms)
2 ounces thin rice noodles, broken up and cooked for 5 minutes in
boiling water, then drained
1/2 cup finely chopped green onions
2 tablespoons finely chopped fresh coriander
rice paper rounds about 8 inches in diameter
oil for deep frying

Combine Nuoc Cham, water, cayenne and sesame oil, then stir in
cornstarch. Add chicken, then stir to coat and marinate for 30
minutes.

In a frying pan, heat peanut oil, then stir fry over medium/high
heat ginger, onion and garlic for 30 seconds. Add red pepper and
mushrooms, then stir-fry for 2 minutes. Add chicken with its
marinade, the stir-fry for further 4 minutes. Stir in noodles, green
onions and coriander, then allow to cool.

Soften rice paper by dipping, one at a time, into warm water. Place
about 1 heaping tablespoon of filling in centre of each sheet, then
fold up bottom over filling and fold sides over and roll up tightly.

In a saucepan, heat oil, then fry rolls over medium-high heat for
about 4 minutes or until golden on all sides.

Note: Instead of frying, rolls can be baked for 25 minutes in a 350
F preheated oven, then browned under the broiler. Serve hot with
Nuoc Cham or Sot Ca Chua sauce.

My comments:
*I used 1/2# ground pork and 4 oz. crab meat. You also can use
shrimp and pork which is excellent. You can mince or cut into
matchsticks, but I usually mince as it is easier to roll and eat.

I chop up the mushrooms as sliced makes for large pieces.

I only soak the rice noodles as I use the tiny ones.

I serve the Cha Gio/Nem Ran with a salad plate. A salad plate is an
assortment of Viet herbs and lettuce. We prefer the red ruffle
lettuce, as the Butter Lettuce is a bit thick and coarse.

Herbs we use some or all Vietnamese/English/Thai:

Rau Ram - Vietnamese Coriander/Hot Mint
Tia Tue - Purple Mint/Purple perilla
Rau Thom or Hung Lui - Regular Mint (bai sara neh)
Rau Que Ninh mong (?) - Lemon Basil (bai mangluk)
Rau Que - Thai Holy Basil (Bai Grapao)
Rau Que Thai Sweet Basil (Bai Horpha)
Ngo Mui - Cilantro (pak chee)
Ngo Guy - Sawtooth (pak chee farang)
Kinh Gioi - Vietnamese Balm or mint

Recipe: Nuoc Cham - Hot Fish Sauce

Can be served with all types of entrées and soups.
4 medium size red chilies, seeds removed and chopped
4 cloves garlic, crushed
1 tablespoon grated fresh ginger
1 tablespoon sugar
1 tablespoon water
2 tablespoons lime or lemon juice (I use lime)
2 tablespoons vinegar
3 tablespoons Nuoc Mam
4 tablespoons finely chopped fresh coriander

Place all ingredients in a food processor and process for a minute,
then serve with all types of entrées.

Recipe: Sot Ca Chua - Tomato Sauce

2 tablespoons peanut oil
6 cloves garlic, crushed
4 medium tomatoes, seeded and finely chopped
1 cup coconut milk
1/4 cup water
1 teaspoon salt
1 teaspoon sugar
In a frying pan, heat oil, then stir-fry garlic over high heat for a
minute. Add tomatoes, then sauté over medium heat for 5 minutes.
Stir in remaining ingredients, then bring to boil. Simmer over
medium heat, stirring every few minutes until sauce thickens, then
serve with all types of entrées.
* * * * *

I'll add my notes:

Ground pork with either crab or shrimp is probably the
most traditional way of making Cha Gio, at least for
Southern Viets. (I'm not bound by tradition and a
great version can be made with ground turkey.)

Personally, I dislike Cha Gio made with jicama. It's
like an unexpected lump of starch inside the roll.
But go for it if you like jicama.

The egg wash, rather than water, is necessary when
using certain types of wrappers. In VietnAmerica,
rice paper wrappers are not used as often as Cha Gio
wrappers, which one can buy at a Viet market, in 2
sizes at least - but they require you to use egg wash
to seal and lock the roll.

A tight seal is really essential. A tightly rolled,
tightly sealed Cha Gio ends up crispy and non-greasy,
and might be enough to win a Viet female a husband. A
loosely rolled, poorly sealed Cha Gio is a greasy mess
and can ruin a reputation.

Reconstituted dried tree ear mushrooms are
traditional. But not essential. Other dried
mushrooms might be more appealling, and fresh
mushrooms are a great choice too.

If you do not like the flavor of cilantro, approach
Ngo Gai leaves with caution. If you don't like
cilantro, Ngo Gai might knock you through a wall.

At a party or gathering, Cha Gio are often served with
the lettuce leaves, salad herbs, and dipping sauce, as
MA described. However, they are also used in many
"combination dishes" that might be eaten at home or
served in a restaurant. Some soft rice noodles,
lettuce and salad herbs, grilled meats and/or seafood,
and some Cha Gio cut into bite-size pieces. All
dressed with a bit of the same light sauce used for
dipping - made as garlic-y and as full of chili
peppers as one wants.

Below is a photo by UncorneredMarket.com-Docked at My Tho, this boat unloads pots of bougainvillea for the Tet flower market.

 

 
Celebrating Tet