Halloween Party Foods: Top 5 Meal Ideas

23 Sep 2010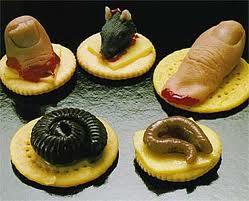 One of the most tedious tasks while organizing a Halloween party is deciding on a perfect menu to go with the party theme. Below listed are some of the popular Halloween party food ideas that are instant crowd pleasers and are likely to 'wow' your guests. You can either go for an all-spooky food theme or opt for exclusive themes like jack-o-lantern or trick-or-treats when deciding on the ghoulish goodies. Tail the blog to pick your favorite party food for this Halloween.
Popular Halloween Party Food Ideas
1. Creepy Halloween Meals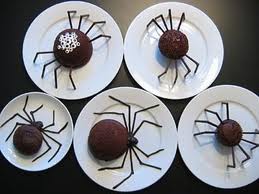 In case you are organizing a fun filled adult Halloween party, then some creepy Halloween party meals could be the perfect choice. Creepy Halloween meals include various foods that look purely spooky, gross, and macabre on the plate. You can serve a meatloaf made in a brain-shaped cast. This will tickle your taste buds and deliciously torture your eyes too. Moldy pistachio pudding , finger-shaped cookies, and green booger gelatin tend to go well with your creepy feast too.
2. Scary Eats
A popular creepy Halloween party food is created out of deviled eggs which are served as eyeballs. Leg bone shaped cheese slices and olive stuffed cherry tomato looks just like eyeballs too. Mashed potatoes garnished with moldy green coloring and finger-shaped carrots is considered to be an ideal accompaniment to it. Hot gummy desserts and refreshing frozen plastic bugs in ice-cubes at the end of the meal add an interesting twist as well. Complimentary dishes can include spider-shaped breadsticks that go well with the scary fare.
3. Spooky Drinks
There are many creepy beverages that can scare you out of your wits. The most popular ones among them include:-
Ghost-snot vanilla milkshakes,
Berry Bloody Smothie
Green Grog
Wicked Witch Brew
4. Gourmet Halloween Meal
One of the common meal ideas that are adopted in most of the adult parties is Gourmet Halloween party meals. Generally, people prefer separate courses of gourmet meals during Halloween parties. This way they can indulge in one dish at a time and enjoy the taste of the dish to the fullest. The first course of the Halloween party usually comprises of Pumpkin bisque. Moreover, you can serve three-bean salad and chilled squash in order to refresh the second course. Some other popular serving of Gourmet Halloween party meals includes ginger-breaded chicken over toasted pumpkin seeds, apricot soufflé, caramelized sweet potato, and wild rice.
5. Halloween Cocktails
A gourmet meal is seldom complete without cocktails. Halloween based cocktail ideas are meant to intrigue as well as amuse you with their creativity. You may go 'ugh' on seeing the drink served to you in the finest glassware but you will certainly not be able to resist them. The best of such drinks include:-
Bayou Slime
Corpse Reviver
Devi's Handshake
Green Ghoul
Apart from these, you can always use your  imagination to create other Halloween meal ideas like simple Halloween, healthy Halloween, and scary Halloween. All you have to keep in mind is to think of some traditional yet trendy and popular Halloween Party Food Ideas.
Image Credits: ifood.tv, craftzine.com
Halloween Party Foods: Top 5 Meal Ideas