Kids Halloween Party Food Ideas For Kids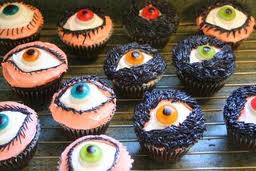 The secret to hosting a happening Halloween party lies in your ability to be as creative as possible with the menu and these Halloween party food ideas for kids tells you how. Halloween feasts are all about deliciously creepy treats that goes well with the spooky spunk of the season. Just stock up on the recipes of festive favorites like creepy cupcakes, ghoulish brownies, spooky salads, and sinful snacks and add your own ideas to garnish them as creepily as possible. Here are a few scrumptious yet scary Halloween food ideas for kids that will not only make them super excited, but also make your Halloween party a huge "spooktacular" success.



Popular Halloween Party Food Ideas For Kids



1. Finger Foods

A Halloween party is incomplete without finger-licking finger foods. You can serve finger foods like cheddar cheese cubes, orange slices, baby carrots, black licorice, and blackberries. These colors typically represent the Halloween colors and lend a spooky punk to your celebrations. Making fruit kebabs with purple grapes alternated with cantaloupe is also a great Halloween recipe.



2. Sandwiches and Crackers

Sandwiches are not just a huge hit with the kids but are equally loved by adults and come in all possible shapes and sizes. So, take those Halloween cookie cutters out of the shelf and give your sandwiches the spooky shapes of ghosts, bats, pumpkins, etc. You can also shape white cheese slices as ghosts and skulls and serve them with crackers.



3. Sausages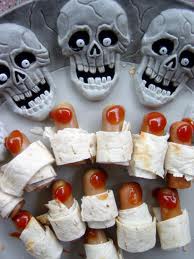 Create "Monster Toes" out of those delicious sausages. Simply wrap half a sausage in a tortilla and add a dash of ketchup on the open end, to give it a look of a toenail.



4. Halloween Cupcakes

Prepare some creepy looking cupcakes this Halloween! You can make Spider Cakes out of chocolate muffins. Take two eye-type candies (like Bassett's Liquorice Allsorts) and place them on the cake to make the spider's eyes. Cut eight licorice pieces and bend them in halves. Place four pieces on each side, so that they act as the spider legs. You can also make exciting Ghost Cakes. Coat a few cupcakes with chocolate frosting. Partially insert a Nutter-Butter cookie and frost the remaining cookie with vanilla frosting. Draw a spooky expression on each ghost with the decorator's icing. Your Ghost Cakes are ready. Similarly, you can be creative and give your cakes the look of a vampire, a bat, a witch hat and so on.



5. Pudding

Children love chocolate pudding – use this to your advantage. Simply serve the chocolate pudding in clear plastic cups and stick a vanilla wafer in each of them, ensuring that one-half of the wafer sticks out. Outline the wafer with any jelly of your choice and your creepy "gravestones" are ready.



6. Juices

Make a spine-chilling Swamp Juice by mixing a packet of Kool-Aid, sugar and water. Add a can of frozen orange juice concentrate. Just before serving, add ginger ale and orange sherbet. This gives a green color to the drink, thereby making it look swampy, but at the same time, tastes delicious. You can also garnish it with raisins or a few plastic spiders to give a buggy effect.

These Halloween recipes are easy and quick to make and are more or less based on the universal tastes of kids. Therefore, use these scary Halloween food ideas and see for yourself how your little goblins jump with glee.

Image Credits: toastednut.typepad.com, poeticfood.blogspot.com, luludou.blogspot.com, fatalfoodies.blogspot.com