Birthday Party Recipes for Children
17 Sep 2010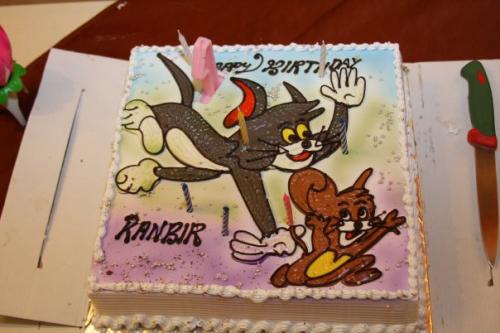 Here are some unique Birthday party recipes for children, which can be tried if you wish to gift a nostalgic birthday time to your kids. I am sure most of us might have enjoyed going to our friends place to relish birthday goodies. And at times we do get nostalgic about those treasured moments.
Sandwiches: Kids love to relish simple sandwiches with cream cheese, egg or marmite stuffings.  You can also pack these sandwiches in party boxes so that kids can carry it home if they wish to eat it later. Some interesting things like a piece of fairy cake, grapes or carrot sticks, chocolate wafers, and a pretty napkin can also be packed in the party box along with sandwich. As most of the kids love shaped sandwiches, so you can try out shaping sandwiches with the help of biscuit cutters and knives. Instead of going for traditional sandwiches, you can try out making some fanciful items like fairy bread, tortilla wrap, and pin-wheel sandwiches.
Colorful fruit skewers: Colorful fruit skewers can be easily prepared using the available fruits like mango, orange, banana, strawberries etc.
Paddle pops, animals, and boats: Paddle pops, animals and boats can be made at home using carrot, watermelon, cucumber, etc. Celery sticks, and small candles can be used for decoration.
Rainbow choc pops: Kids are fascinated with colors. To attract them, multicolored Rainbow choc pops can be made using paddle pop sticks, ice creams, chocolates etc.
Vegetable crisps: Vegetable crisps can be served in place of packed fries. Vegetable crisps can be prepared easily at home using parsnips, sweet potatoes, beetroot and celery leaves.
Choclate macroons: Kids will be especially happy to have that extra piece of chocolate on their plate other than cakes and chocolates. You can try out baking Choclate macroons at home by referring cookbooks.
Cup cakes: Most of the small girls love their cup cakes very much. So you can try out experimenting with themed cupcakes like apple cup cake, baseball cupcake, balloon cupcake etc. 
I would like to rephrase the popular quote by Cicero- "The life given us by nature is short, but the memory of a life well spent is eternal" to something like ""The life given us by nature is short, but the memory of well enjoyed birthday is eternal".
Make your kid's birthday party an enjoyable one with these birthday party recipes for children.
Image courtesy: ifood.tv
Birthday Party Recipes For Children