Celebrating Festival with Holi Special Food

15 Sep 2010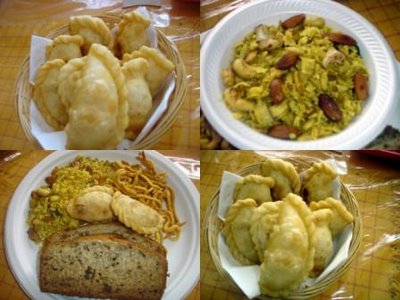 Holi is not just a festival of colors, but also the celebration of taste. Here are some of the Holi foods or Holi special Food Items, which any average Indian would love to savor, while being drenched in colors.
Best Holi Special Foods
Ghujiya/Karanji: Ghujiya or Karanji is a sweet generally made of rava and grated coconuts. Gujiyas are made in different flavors to suit ones taste. Most prominent amongst them are Apple Gujiya, Kesar Gujiya, Dry fruits Gujiya, Anjeer Gujiya, Cashewnut Gujiya, Pista Gujiya and Almond Gujiya. The fillings of the gujiya can be easily made by using various ingredients with rava and grated coconuts. Readymade Gujiya moulds are available in general stores, which makes it easier to give a distinctive shape of half moon to your gujiya.
Besan Papdi: Besan Papdi is a crunchy Holi Special Food item, which completes the Holi celebration sedated with pleasure of bhang, colors and delicious sweets. This salty snack item made of chickpea flour can be stored in airtight containers for about a month.
Kanji Ke Vade: Kanji Ke Vade counts among special and favored amongst all Holi Food items. The protein rich Kanji vada can be an ideal evening snack to ignite your senses after enjoying an eventful and equally tiring tryst with colors and bhang. Remember the Kanji ka Vada, which is eagerly awaiting its turn to be savored, comes to your plate after a grilling 8 day exposure to sun, inside the earthen pots.
Dahi Balle: Dahi Balla or Dahi Balle is a popular chaat item savored during Holi. Dahi Balla is more popularly known as Dahi Bada in some parts of India. This delicacy, prepared with spiced Yoghurt and salty vada is dressed with various kinds of tasty sauces. This salty, bursting and energetic chat never ceases to amaze us. I read it in some blog that 99% of the Indians find Dahi Ballas irresistible.
Saankhein: The protein rich Saankhein is associated with smell and flavor of a Holi Season. Like Kanji Ke Vade, Gujiya and Dahi Balle, Saankhein is counted as one of the must have  without which the spirit of celebration dampens. Saankhein, prepared using different types of lentils can be served with various kinds of chutney or sauces.
Puran Poli: Puran Poli is a popular sweet made during many Indian Festivals. But their taste adds a punch of sweetness to Holi. Puran Poli can be easily made using sugar or Jaggery. The stuffing of Puran Poli is made in different ways but the most popular amongst them is a lentil, jaggery and cardamom powder stuffing. This is served with milk, flavored with almonds and pistachios.
Bhang ki Tandai: Holi is known for the visual feast of colors and mind invigorating bhang. I felt the list of Holi Special Food items would be incomplete mentioning the bhang. Bhang is generally prepared by mixing cold beverage (made from almonds, sugar, spices and milk) and bhang (a preparation made from the female cannabis plant). Bhang is notorious for transcending its user into a state of heightened ecstasy. 
With these great holi foods we wish a colorful and merry holi to all!!
Image courtesy: 3.bp.blogspot.com 
Celebrating Festival With Holi Special Food