Hanukkah and Food

19 Dec 2007
Hanukkah also known as the Festival of Lights, is an eight-day Jewish holiday commemorating the rededication of the Second Temple in Jerusalem at the time of the Maccabean Revolt of the 2nd Century BCE. Hanukkah is observed for eight nights, starting on the 25th day of Kislev according to the Hebrew calendar, and may occur from late November to late December on the Gregorian calendar.
Hanukkah: The Festival of Light !
 

The festival is observed by the kindling of the lights of a special candelabrum, the Hanukiah, or Hanukkah Menorah, one on each night of the holiday, progressing to eight on the final night. An extra light called a shamash, (Hebrew: "guard" or "servant") is also lit each night, and is given a distinct location, usually higher or lower than the others. The purpose of the extra light is to adhere to the prohibition, specified in the Talmud (Tracate Shabbat 21b-23a), against using the Hanukkah lights for anything other than publicizing and meditating on the Hanukkah story.
Sweet potato and zucchini latkes

Potato pancakes, known as latkes in Yiddish, are traditionally associated with Hanukkah, especially among Ashkenazi families. There is a custom of eating foods fried or baked in oil (preferably olive oil), as the original miracle of the Hanukkah menorah involved the discovery of the small flask of oil used by the Jewish High Priest, the Kohen Gadol. This small batch of olive oil was only supposed to last one day, and instead it lasted eight.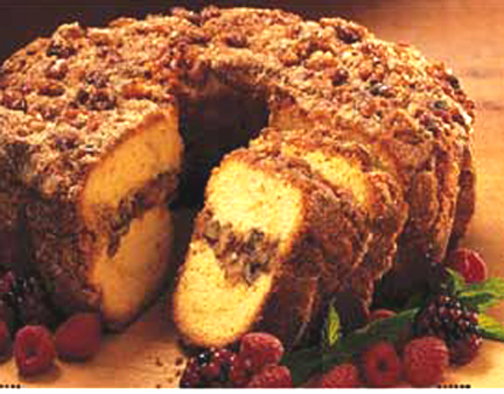 Jewish Coffee Cake Many Sephardic families as well as Polish Ashkenazim and Israel have the custom of eating all kinds of fruit filled doughnuts which are deep-fried in oil, and of course all Kosher foods. 
Hanukkah And Food