Unique Christmas Dinner Ideas!
8 Dec 2007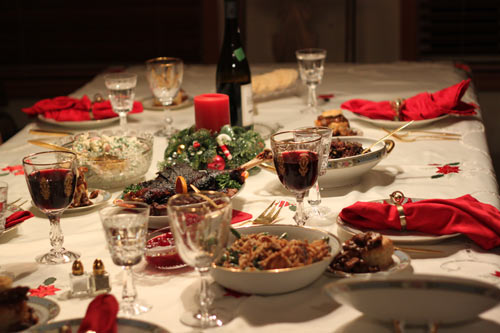 The Christmas Dinner is a part of the celebrations for Christians and others the world over. Be it the method of folding the napkin or the way you set the table or even the way you plan the dinner with your family, you can bring in a unique aspect to all aspects of your celebrations. Here is some information about certain Christmas dinner ideas. Take a look...
As you decorate the dining table you can use a new tablecloth, which bears Christmas icons and themes on it. You may opt for the green or red as the dominant colors for your table decoration, as these are the two major colors we associate with Christmas . On a green and a white-checkered tablecloth, you may embroider small red bells, stars and holly and berries in the white sections.
The centerpiece that you choose for your dining table also has to be chosen carefully, which will reflect the Christmas theme and be attractive at the same time. A large glass bowl can be placed in the center, which can be decorated with floating candles interspersed with petals of red and yellow roses.
The napkin of the table can be folded in various innovative ways. Fold the napkin in the form of a pocket vase and place small fresh flowers in it. Or you may also have it folded in the shape of a pleated fan or a peace lily.
If you have too many guests and are planning to organize a buffet, make sure that you at least set a table for the children to avoid unnecessary hassles during the party. You can gift the children with some small gifts of chocolates or cookies made at home filled in attractive pouches, which can be placed at the seats of their table.

 

Last, but not the least, the food. Some of the most unique Christmas dinner menus can include:
            Oysters/Potato Puffs/Sherry Shrimps
            Tuna Steak/Beef Brisket/Rack of Lamb
            Churros/Truffles/Mini Bundt Cakes
Try out some of these Christmas dinner ideas and celebrate this festive season with your friends, family and Christmas Carnivals. Browse through this site to find out more on the other aspects of Christmas Dinners.
Source: youmakeityoueatit.wordpress.com
Unique Christmas Dinner Ideas!