Dhoni Wedding Menu- An irresistible Asian and Italian Affair!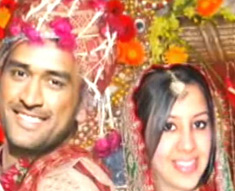 Dhoni Wedding Menu, the wedding menu of the illustrious Team India Captain, Mahendra Singh Dhoni, seems to have been a super hit with the guests! The Dhoni wedding menu, an interesting combination of Indian, Chinese, Thai and Italian dishes, is said to be the choice of the cricketer's bride, Sakshi Singh Rawat, a Kolkata(India) based Hotel Management graduate. The menu, comprising 15 different types of snacks and 25 main dishes had the compelling Thai Red Curry, a passion of the bride, as one of the main attractions! I am not surprised to hear that this item, from the sumptuous Dhoni Wedding Menu, had one and all drooling over it. After all, it is one of the dishes strongly favored by the experienced taste buds of a professional foodie!
Image Courtesy : NDTV
Dhoni Wedding Menu- An Irresistible Asian And Italian Affair!